Turkish investors plan to build lentil processing plant for $ 17 million in north Kazakhstan region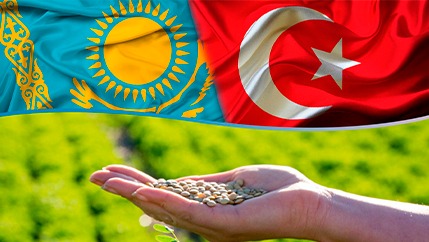 Turkish investors ARMADA FOODS are considering the possibility of implementing a large investment project for the processing of lentils in Northern Kazakhstan. In order to get acquainted with the potential of the industry, the Embassy of Kazakhstan in Turkey, together with KAZAKH INVEST , organized a visit of foreign investors to Kazakhstan. During the visit, investors got acquainted with the investment climate of the region and work of other companies in North Kazakhstan region.
The project provides for the construction of a new plant with a capacity of 100 thousand tons of finished products per year. The enterprise plans to organize the processing of raw materials and packaging of cereals with further export to Turkey, Jordan, Lebanon and European countries. The planned investment amount is $ 17 million.
"Northern Kazakhstan is one of the most agrarian regions of your country and the leader in cultivation of lentils. We had very useful meetings with local Turkish businessmen, agricultural producers and regional authorities. We are impressed by the conditions offered by the Special Economic Zone. We plan to continue a detailed discussion of the project," - said Saygin Sonmez, the Founder of Armada Foods.
Investors are considering the opportunity to implement the project on the territory of the SEZ "Qyzyzljar", which will give investors the opportunity to receive tax incentives and a number of preferences.
"In the past month we have been negotiating with this company, exchanging information, answering all the questions that arise. The negotiations were conducted by the means of videoconference. Despite the difficult epidemiological situation all over the world, we managed to organize a visit of a major investor to our region. I would like to express the gratitude to the Embassy of the Republic of Kazakhstan in Turkey for their active assistance in attracting investments, negotiating with investors," - said Daniyar Shalabayev, the Regional Director of KAZAKH INVEST in North Kazakhstan region.
Today, investors already have some of the most modern plants for growing pulses and cereals in Turkey. The plant is located on an area of ​​40 thousand m2 and has horizontal storage areas of 26 thousand m2 and 5 vertical silos with a capacity of 33 thousand tons.
For reference: Armada Foods, founded in 1993, is engaged in the production, processing, import, export and transit of agricultural products such as pulses, cereals, organic, feed and oilseeds. Armada Foods maintains good business relationships with private sector enterprises, government agencies and international food aid organizations from 74 countries. The company is ISO 9001, ISO 22000, Kosher, Halal, IFS, FDA, EU Organic, NOP Organic, Ohsas and Sedex certified.