Roman Sklyar held an online meeting with the heads of large German companies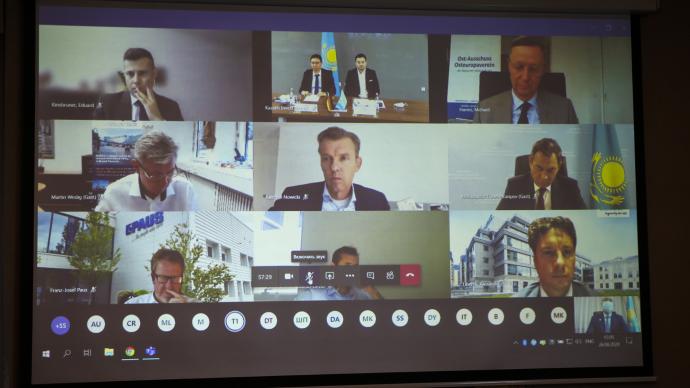 The event is dedicated to the deepening of Kazakh-German cooperation in the field of subsoil use and geology. The online meeting was attended by managers and representatives of more than 100 leading German companies, such as Volkswagen, Siemens, Linde, Schaeffler, Knauf, Lufthansa, SMS group, DMT, etc.
The Deputy Prime Minister Mr.Roman Sklyar, in his speech, informed partners from Germany about the reforms in the field of geology and subsoil use aimed at increasing competitiveness, creating market conditions for investors, and improving the professional and technological level of the industry. R. Sklyar noted that special attention in conditions of post-crisis development will be paid to the issues of economic diversification and the creation of new industrial productions.
Active work on its way within the framework of the Intergovernmental Agreement "On partnership in raw materials, industrial and technological spheres between Kazakhstan and Germany", signed on February 8, 2012 during the visit of the First President of the Republic of Kazakhstan Nazarbayev N. to Germany.
Investment potential in the field of MMC was presented by Deputy mayors of Pavlodar and Karaganda regions. The meeting was also attended by the leadership of the Ministry of Industry and Infrastructural Development of the Republic of Kazakhstan, Ministry of Ecology, Geology and Natural Resources of the Republic of Kazakhstan, the Investment Committee of the Ministry of Foreign Affairs of the Republic of Kazakhstan and "KAZAKH INVEST" National Company" JSC.
The German side was represented by Mr.Michael Harms, Executive Director of the German Committee on Eastern European Economic Relations. He noted the importance of strengthening bilateral economic ties in raw materials cooperation, implementing joint projects on production and processing of products. Mr.Thomas Goeckle, the German Government Commissioner for Raw Materials Cooperation, also emphasized the importance of developing comprehensive trade, economic and investment cooperation between Kazakhstan and Germany.
The representative of the Federation of German Industries (BDI) Mr.Matthias Wachter, Managing Director of «Hermann Paus Maschinenfabrik GmbH» Mr.Franz-Josef Paus and Head of the EBRD in Kazakhstan Mr.Agris Preimanis paid special attention to the prospects of participation in the development of MMC in Kazakhstan.
At the end of the web conference, the participants discussed the implementation of practical issues in "Q&A" format and agreed to continue holding such meetings on a regular basis.