Memorandums for $ 160 million signed at the forum in Germany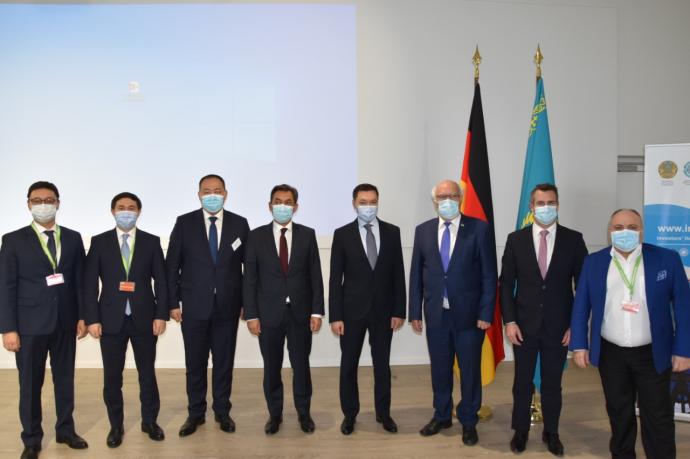 The Deputy Minister of Foreign Affairs Almas Aidarov held a number of bilateral meetings with the representatives of the German industry and presented investment projects in mining, metallurgy, machinery building and medical industries worth more than $ 10 billion at the round table with the participation of German business circles.
The events are organised in accordance with the instructions of the President K. Tokayev following the official visit to Germany in December 2019, as well as in line with the activities of the Working Group on strengthening interaction with German investors under the leadership of the Deputy Prime Minister of the Republic of Kazakhstan R. Sklar.
"The Working Group has no analogues in trade and investment relations between Kazakhstan and any other country. The Government of Kazakhstan offers the German business an exclusive package of measures, and this is a vivid evidence of the beginning of a qualitatively new stage of cooperation between Kazakhstan and Germany," – noted A. Aydarov.
In turn, the Deputy CEO of KAZAKH INVEST Galym Uzbekov presented the German side with the possibility of implementing projects in the priority sectors of Kazakhstan's economy.
Also, the Chairman of the Board of Herrenknecht AG Dr. Martin Herrenknecht, Co-Chairman of the Kazakh-German Business Council, General Director of DB Engineering & Consulting GmbH Niko Varbanoff, Head of the Department of Raw Materials Policy of the Federal Ministry of Economy and Energy of Germany, Dr. Thomas Heckle gave presentations at the forum.
In their speeches, the speakers noted the importance of deepening mutually beneficial Kazakh-German trade and economic relations, developing investment partnerships and transfer of advanced technologies from Germany.
During bilateral meetings, A. Aidarov and other members of the delegation of the Republic of Kazakhstan discussed the prospects for the development of partnership and implementation of specific joint projects with the heads of German companies. As a result of the negotiations, documents for over $ 160 million were signed for the implementation of investment projects in the agricultural machinery and healthcare sectors.