Kazakhstan and Egypt intend to expand investment cooperation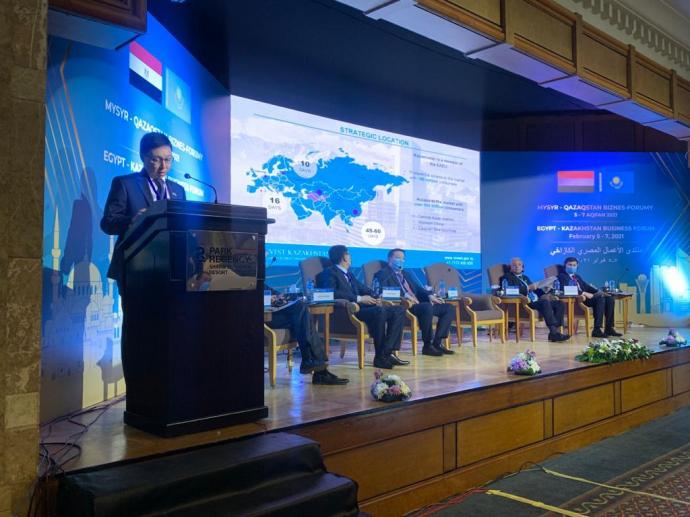 Development of trade and economic cooperation and investment opportunities were discussed on the sidelines of the Kazakh-Egyptian business forum on February 7 in Egypt.
The organizers of the event from the Kazakh side were the Ministry of Foreign Affairs of the Republic of Kazakhstan, the Embassy of the Republic of Kazakhstan in the Arab Republic of Egypt and KAZAKH INVEST, NPP Atameken and Center for the development of trade policy "QazTrade". From the Egyptian side - the Ministry of Foreign Affairs, Foreign Trade and Industry of Egypt, the Administration of the South Sinai Province, and the Federation of Egyptian Chambers of Commerce.
Within the framework of the forum, acting Galym Uzbekov, Chairman of the Management Board of KAZAKH INVEST, made a presentation on investment opportunities, current measures of state support for investments, as well as ready-made investment proposals for implementation in Kazakhstan.
KAZAKH INVEST offers a specific list of more than 100 projects in various industries. Together with international consulting companies, a teaser, business plan, and financial model were developed for each project. The presence of such a list of investment projects removes the questions of investors in which industries and regions to invest in Kazakhstan. To date, we have selected the most attractive projects in priority sectors of the economy to offer investors from Egypt, G.Uzbekov noted.
Besides, the Chairman of the Tourism Industry Committee of the Ministry of Culture and Sports of the Republic of Kazakhstan Dastan Ryspekov made a presentation on the tourism potential of Kazakhstan, and Aslan Kaligazin, Deputy Chairman of the Board of Export Insurance Company KazakhExport, touched on the development of mutual trade and export of products in his speech.
During the event, Galym Uzbekov held several B2B meetings with representatives of government agencies and the business community of Egypt, including with the Executive Chairman of the General Administration for Investments and Free Zones of Egypt (GAFI) Muhammad Ahmad Abdel Wahab. As Muhammad Ahmad Abdel Wahab noted, today GAFI is the main government body that regulates investment activities and company registration in Egypt. The company has about 100 successfully implemented projects in various sectors of the economy and 42 mega-projects in the agro-industrial complex, tourism, transport and infrastructure, construction, renewable energy, etc. To date, the company's pipeline has about 350 projects, and the number of registered companies has exceeded 22 thousand, with a total capital of $ 53.1 billion. Also, according to the results of last year, with the support of GAFI, the net inflow of foreign investment in Egypt amounted to $ 7.5 billion.
Following the negotiations, an agreement was signed between KAZAKH INVEST and GAFI, within the framework of which the parties plan to exchange experience, promising investment proposals on an ongoing basis, as well as prepare a roadmap for further coordination of joint work.