Qatar – an old friend, new opportunities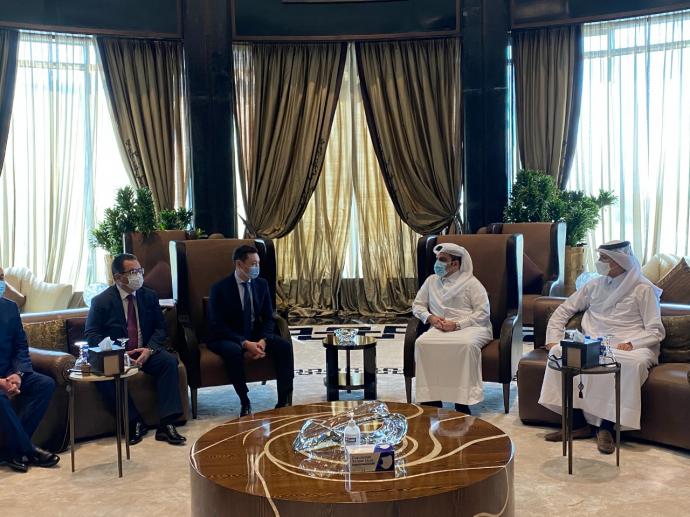 On the eve of the state visit of the Emir of Qatar Sheikh Tamim bin Hamad Al-Thani to the Republic of Kazakhstan, the Kazakh delegation headed by the Deputy Foreign Minister of Kazakhstan A.Aidarov held a working visit to Qatar on behalf of the President K. Tokayev.
The purpose of the visit was to implement joint investment projects with the State of Qatar. The delegation comprised the leadership of the Ministry of Industry and Infrastructure Development, the Ministry of Culture and Sports, SWF "Samruk-Kazyna" JSC, "KAZAKH INVEST" "National Company" JSC, "Astana" International Financial Center and a number of private companies in Kazakhstan.
"We have to admit that we did not fully use the potential of Qatar as a global investor, despite all the opportunities and friendly attitude of this country. Qatar is the richest country with the third GDP per capita, with a progressive vision and investment presence worldwide and in the top assets through a sovereign fund - Qatar Investment Authority. At the same time, we do not have joint investment projects. This is our omission and we must rediscover Qatar", - noted Almas Aidarov.
During the visit, the delegation held talks with the Chairman of the Central Bank of Qatar, and with the heads of national companies such as "Qatar Sports Investments", "Qatar Mining", "Qatari Diar", "Hassad Food", "Widam", "Katara Hospitality", "Qatar Investment Authority" and the Qatari Independent Global Association and other private investors.
In continuation of the previous agreements, the Kazakh delegation brought 37 tailored "brownfield" projects worth $4,6 billion in such sectors as agriculture, mining industry, defense industry, tourism, petrochemical industry. These projects are selected taking into account the specifics of the Qatari investment policy and have reliable Kazakh partners.
Active negotiations have already begun on projects in the field of livestock farming and milk production in Almaty region, development of a number of polymetallic deposits, and the defense industry. Also, as part of the expansion of the tourist infrastructure, a request was received for the possibility of building tourist facilities in Almaty and Mangystau regions.