Investment and trade opportunities of Kazakhstan presented to investors in Istanbul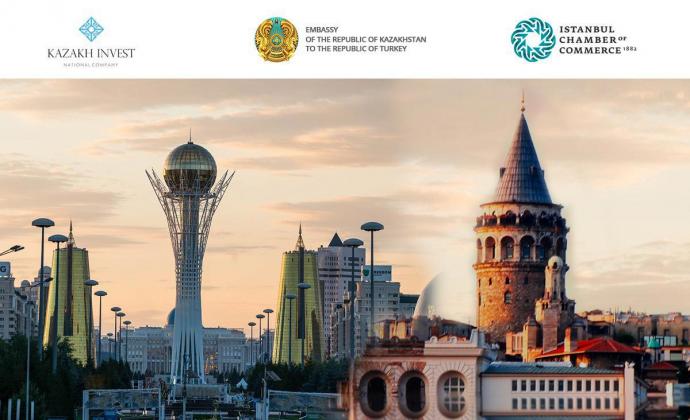 On 13 November 2020, the Embassy of Kazakhstan in Turkey together with KAZAKH INVEST organized a webinar for the members of the Istanbul Chamber of Commerce.
During the webinar, Turkish entrepreneurs were presented with key information on the development of trade, economic and investment cooperation between Kazakhstan and Turkey.
In his speech, the Ambassador of Kazakhstan to Turkey Abzal Saparbekuly noted: "As the undisputed economic leader of Central Asia, Kazakhstan has created the most favorable investment environment in accordance with the international standards. The geographic location of the country provides export potential and opportunities of entering large Asian and European markets. Over the years of independence, our country attracted more than $ 350 billion of foreign direct investment to the economy, and Turkey occupies a special place, all this happened as a result of successful reforms carried out in our country."
During the event, Zhandos Temirgali, the Director of Investment Attraction and Marketing Department at KAZAKH INVEST, noted: "Today, relations between Kazakhstan and Turkey are truly exemplary and have a strategic character. This is not surprising, since the Turkish and Kazakh peoples have a common origin, language and religion. Since the first years of independence of the Republic of Kazakhstan, Turkey has invariably been one of the largest investors and trade partners of our country. Today, there are about 2.5 thousand enterprises with the participation of Turkish capital in Kazakhstan. In particular, last year the volume of bilateral trade grew by as much as 65%, reaching $ 3.1 billion, placing Turkey in 7th place in the list of trade partners of Kazakhstan. In terms of investment attraction, last year there was also a record volume of direct investment inflow from Turkey into the economy of the Republic of Kazakhstan in the amount of $ 358 million (20% increase). In total, over the past three decades, Turkey has invested over $ 4.2 billion in the economy of Kazakhstan. All these figures clearly indicate a high mutual interest in the dynamics of the economic cooperation development. At the same time, these indicators can be dramatically increased, taking into account the huge investment potential of Kazakhstan and the opportunities presented by specific sectors."
In turn, the Deputy Chairman of the Board of the Istanbul Chamber of Commerce Israfil Kuralay noted that Kazakhstan and Turkey formed fraternal relations with deep historical roots. "Trade and investment cooperation is undoubtedly one of the main pillars of our strategic cooperation. We are always ready to further strengthen cooperation with fraternal Kazakhstan in various fields", - noted the speaker.
Arman Abenov, the General Director of "Qaztrade" Trade Policy Development Center" JSC, informed about the measures of state support and support mechanisms for entrepreneurs and exporters of the country.
More than 100 representatives of Turkish business participated in the event.