A plant for fuel oils production was launched in Almaty region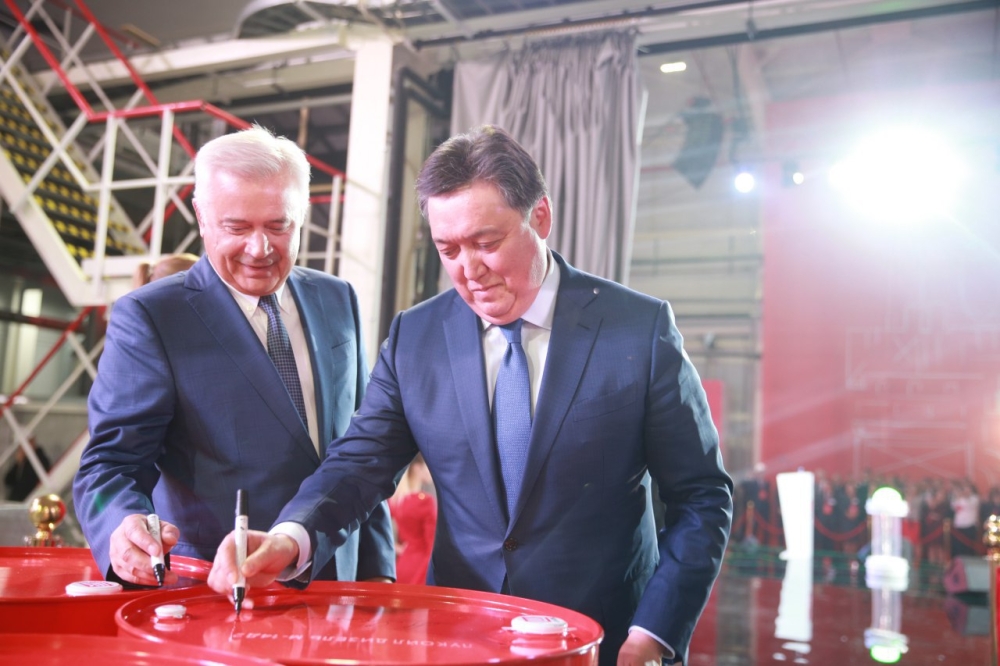 Today, on 20 September 2019, the Prime Minister of the Republic of Kazakhstan Askar Mamin and the President of LUKOIL Vagit Alekperov opened a new plant for fuel oils in Almaty region.
The production facility is one of the leading and innovative enterprises for production of fuel oils in the CIS. The plant's capacity is 100 thousand tonnes per year. Finished products include more than 800 types of motor and industrial oils, including LUKOIL GENESIS unique synthetic oils, developed using innovative molecular technologies and approved by the world's leading car manufacturers.
Sales markets will include Kazakhstan, Kyrgyzstan, Tajikistan, Turkmenistan, Uzbekistan and Western China.
Launch of the plant will result in creation of over 200 jobs for citizens of Kazakhstan, including young specialists graduated from domestic universities.
Geographical location of the plant optimizes the logistics of LUKOIL fuel oils in Kazakhstan as well as in Central Asian countries. Modern level of production processes automation enables production and shipment to a customer within one day, while the latest laboratory equipment guarantees high quality oils.
It should be noted that the project was implemented in accordance with the requirements of the legislation of Kazakhstan and international law in the fields of industrial safety, labor protection and environmental protection. When designing the plant, the possibility of increased seismic activity was also taken into account.
"Kazakhstan has created all conditions for investments, and implementation of our project confirms this. The country offers favourable climate, whereby there is a high potential for doing business. The coordinated work of the Government of Kazakhstan and KAZAKH INVEST operating on the one-stop shop principle has become the basis for a comfortable presence of foreign capital in the Republic of Kazakhstan," - said the representative of LUKOIL.
LUKOIL has been operating in Kazakhstan since 1995, participating in four mining projects - Kumkol, Karachaganak, Tengiz and Zhenis. The company is also a part of the Caspian Pipeline Consortium - the only private trunk pipeline to territories of Russia and Kazakhstan.
The CEO of KAZAKH INVEST Baurzhan Sartbaev and the Mayor of Almaty region Amandyk Battalov attended the plant opening ceremony.