Construction of an agricultural machinery plant completed in Akmola region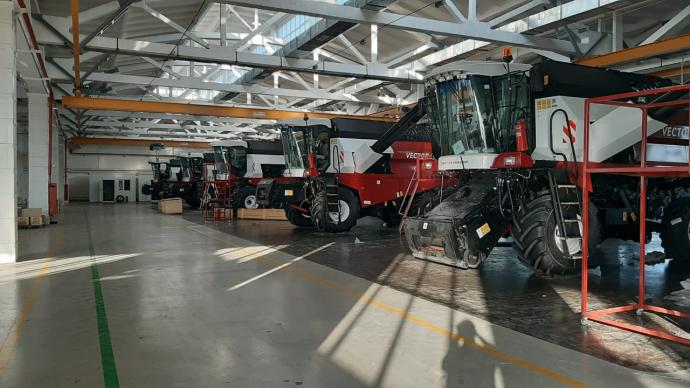 An agricultural machinery plant has started operations in Akmola region. The project was implemented by Georgian investors from CHK Kazrost Engineering Ltd (a subsidiary of the Georgian Industrial Group) with the support of KAZAKH INVEST. Total investment amounted to $60 million.
According to investors, based on the license agreement with the Russian manufacturer of agricultural machinery, LLC "KZ "Rostselmash", the company has already produced 220 combines, 155 reapers and 92 pick-up platforms. The capacity is planned to increase to 425 units of equipment per year, 10% of which will be exported. The project has created 150 new jobs.
"Thanks to the active cooperation with KAZAKH INVEST, we have launched a plant and started production of equipment in a timely manner. Representatives of the company provided full assistance in signing all necessary contracts with government agencies to obtain the status of a domestic manufacturer and receive state support measures," - said the Director of the CHK Kazrost Engineering Ltd Daryn Imanmusayev.
According to experts, today the average wear of the entire fleet of agricultural machinery in Kazakhstan is 76%. In addition, the current renewal of the fleet of agricultural machinery is carried out, to a large extent, at the expense of imports. The ratio of annual imports to production for certain types reaches 9 to 1, that is, up to 90% of equipment is imported.
"The implementation of this project will significantly reduce the cost of farmers to purchase expensive equipment from abroad. The manufacturer already participates in various state programs to support farmers. Including in the "Agrotechnika" program, which is subsidized by the state. At the same time, the state provides an investment subsidy of 20-25% for the purchase of agricultural machinery," said Ulbosyn Sarybayeva, Managing Director of KAZAKH INVEST.
Georgian Industrial Group - the largest industrial holding in Georgia with a diversified business portfolio, including coal mining, energy production as well as representative offices in the CIS countries and globally.