Construction of Kazakh-Chinese investment projects will be carried out in accordance with the legislation of Kazakhstan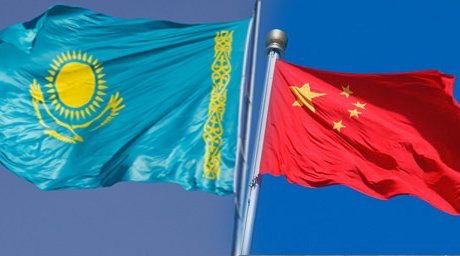 During the period of Kazakhstan's independence, the country attracted over $361,8 billion of foreign investments from more than 120 countries. Of these, the People's Republic of China accounts for about 5%.
In accordance with the Intergovernmental Framework Agreement on strengthening cooperation in the fields of industrialization and investment between the Republic of Kazakhstan and the PRC signed at a high political level in 2015, 55 joint Kazakh-Chinese projects worth $27.6 billion are being implemented in Kazakhstan. The projects cover various industries, such as metallurgy, oil and gas processing, chemistry, machine building, energy, transportation, production of building materials and agribusiness.
It should be noted that from 2015 to June 2022, 20 projects worth $4,453 million were launched, 15 projects worth $5,326 million are under implementation, and 17 projects are under consideration.
Implementation of the Kazakh-Chinese programme of industrial and investment cooperation will result in establishment of competitive high-tech and export-oriented enterprises. The projects will create about 20 thousand new permanent jobs, whereby over 90% of employees will be the citizens of Kazakhstan.
The final products will be cars, oil and gas equipment, steel pipes, special alloys, primary aluminum, soda ash, polypropylene, rapeseed oil and meat products. Additionally, projects will be implemented in the fields, such as energy, construction, light industry and infrastructure development.
All projects implemented in various regions of the country use modern technologies. Construction is carried out in accordance with the legislation of the Republic of Kazakhstan, including getting all the permits and approvals related to product safety, environmental and other standards. All projects, without exception, must receive a positive conclusion from the state examination, upon which construction of production facilities will be allowed.
List of Kazakh-Chinese industrial and investment projects implemented under the Intergovernmental Agreement

No.

Name of the project

Industry

Region

Project cost, $ million

Start of construction / land works

Commissioning

Permanent jobs

IMPLEMENTED (20 projects)

1.

Modernization of the plant for the production of powdered polypropylene

Petrochemistry

Pavlodar region

12

2015

2015

953

2.

Passenger car production

mechanical engineering

Kostanay region

22

2015

2017

290

3.

Rapeseed oil production

APK

North-Kazakhstan region

19

2016

2016

64

4.

Dry port on the territory of the SEZ "Khorgos - Eastern Gate"

Infrastructure

Almaty region

76

2014

2016

176

5.

Processing production of camel and mare milk powder

APK

Turkestan region

22

2016

2018

120

6.

Organization of production of PET waste processing and production of staple fiber (synthetic winterizer)

Chemical

Turkestan region

20

2016

2018

98

7.

Oil refinery (I and II stages of reconstruction)

Oil refining

Shymkent

2 100

2017
(2nd stage)

2018
(2nd stage)

2296

8.

Development of a multi-profile car assembly cluster

mechanical engineering

Kostanay region

1 100

2017

2018

500

9.

Implementation of a project for the construction of a glass factory

Construction

Kyzylorda Region

200

2015

2018

226

10.

AIFC Exchange

finance

Nur-Sultan

13

2018

2018

Not provided

11.

Cement production

Construction

Kyzylorda Region

177

2016

2018

260

12.

Construction of a solar power plant with a capacity of 30 MW.

Power industry

EKR

29

2018

2019

fifteen

13.

Construction of a solar power plant with a capacity of 100 MW

Power industry

Almaty region

107

2018

2019

32

14.

Organization of tractor production

mechanical engineering

Kostanay region

10

2019

2019

100

15.

Construction of a solar power plant with a capacity of 50 MW.

Power industry

Almaty region

42

2019

2020

fifteen

16.

Production of components for the energy industry

Atomic Energy

EKR

154

2018

2020

129

17.

Construction of a wind farm with a capacity of 100 MW

Power industry

Jambyl Region

150

2019

2021

thirty

18.

HPP construction

Power industry

EKR


50

2016

2021

twenty

19.

Construction of a wind farm with a capacity of 50 MW.

Power industry

Kostanay region

50

2020

2021

fifteen

20.

Production of welded steel pipes of large diameter

Metallurgy

Almaty city

100

2016

2022

300

IMPLEMENTED (15 projects)

21.

Polypropylene production

Chemical

Atyrau region

2630

2017

2022

550

22.

Construction of a wind farm with a capacity of 60 MW

Power industry

Almaty region

102.6

2018

2022

fourteen

23.

Construction
of a technopark on the territory of the SEZ "Khorgos-Eastern Gates"

Infrastructure

Almaty region

205

2018

2025

380

24.

Plant for the production of industrial explosives

Chemical

Karaganda region

25

2019

2022

120

25.

Construction of a produced water desalination plant

Water treatment

Mangistau region

60

2019

2022

40

26.

Construction of an oil extraction plant

APK

Akmola region

86

2021

2023

194

27.

Processing and production of products from natural stone (2-stage)

stone processing

Jambyl Region

20

2019

2022

100

28.

New transport system of the city of Nur-Sultan

Infrastructure

Nur-Sultan

1500

2016

2023

500

29.

Construction of a plant for the processing of waste lead and zinc slag

Metallurgy

Jambyl Region

20

2020

2022

250

30.

Development of a tungsten ore deposit

MMC

Almaty region

260

2020

2023

1000

31.

Construction of a wind farm with a capacity of 100 MW

Power industry

EKR

100

2021

2022

fifteen

32.

Construction of a wind farm with a capacity of 50 MW

Power industry

Almaty region

50

2021

2022

fifteen

33.

Production of ceramic products

Construction

Almaty region

18.5

2019

2023

550

34.

Creation of a line for the production of veterinary drugs

APK

Jambyl Region

23

2022

2022

49

35.

Construction of 3 WPPs with a total capacity of 156 MW

Power industry

Akmola region

226

2022

2023

45

UNDER CONSIDERATION (17 projects)

36.

Production of mobile drilling rigs

mechanical engineering

Aktobe region

13

2021

2022

150

37.

Manufacture of cable products

mechanical engineering

Karaganda region

18

2022

2022

258

38.

Development and processing of ferro-titanium ores

MMC

Pavlodar region / Zhambyl region

2300

2022

2025

3000

39.

Construction of a chemical complex

Chemical

Turkestan region

315

2021

2023

500

40.

Construction of a multidisciplinary university hospital

healthcare

Shymkent

189

2021

2023

1 300

41.

Soda ash production

Chemical

Kyzylorda Region

275

2022

2024

699

42.

Construction of a plant for the production of electrolytic manganese

MMC

Karaganda region

45

2022

2024

250

43.

Plant for the harmless processing of hazardous oily waste

Petrochemistry

Mangistau region

97

2022

2023

209

44.

Expansion of the capacity of a gas turbine power plant

Energy

WKO

354

2022

2024(stage 1) 2025 (stage 2)

150

45.

Development of a copper deposit

MMC

Almaty region

1500

2024

2027

3000

46.

Creation of a biochemical cluster and production of advanced chemical materials

Chemical, agro-industrial complex

determined

2500

2022

2024

determined

47.

Urea production

Chemical

Jambyl Region

600

2023

2025

320

48.

Construction of a coal chemical complex

Chemical

Karaganda region

2600

2023

2025

1500

49.

Construction of a modern
integrated meat processing plant

APK

Almaty region

26

2018

2023

321

50.

Production of complex alloys

MMC

Karaganda region

260

2022

2023

1200

51.

Modern complex for processing agricultural crops

APK

Kostanay region

250

2022

2023

500

52.

Construction of a logistics terminal at Altynkol station

Logistics

Almaty region

50

2022

2023

100