Gross inflow of foreign direct investments in Kazakhstan reached $ 350 billion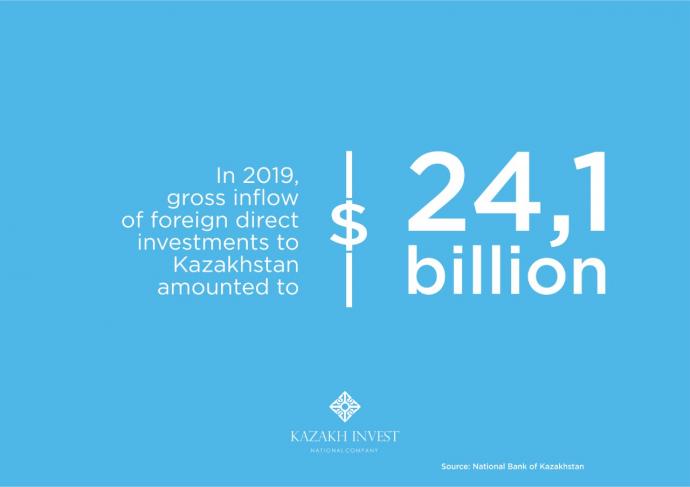 According to the National Bank of Kazakhstan, over the years of Independence, total gross inflow of foreign direct investments into the economy of Kazakhstan amounted to about $ 350 billion. In 2019, gross FDI inflow to Kazakhstan amounted to $ 24.1 billion compared to $ 24.3 billion in 2018.
WHAT INDUSTRIES DO INVESTORS PREFER?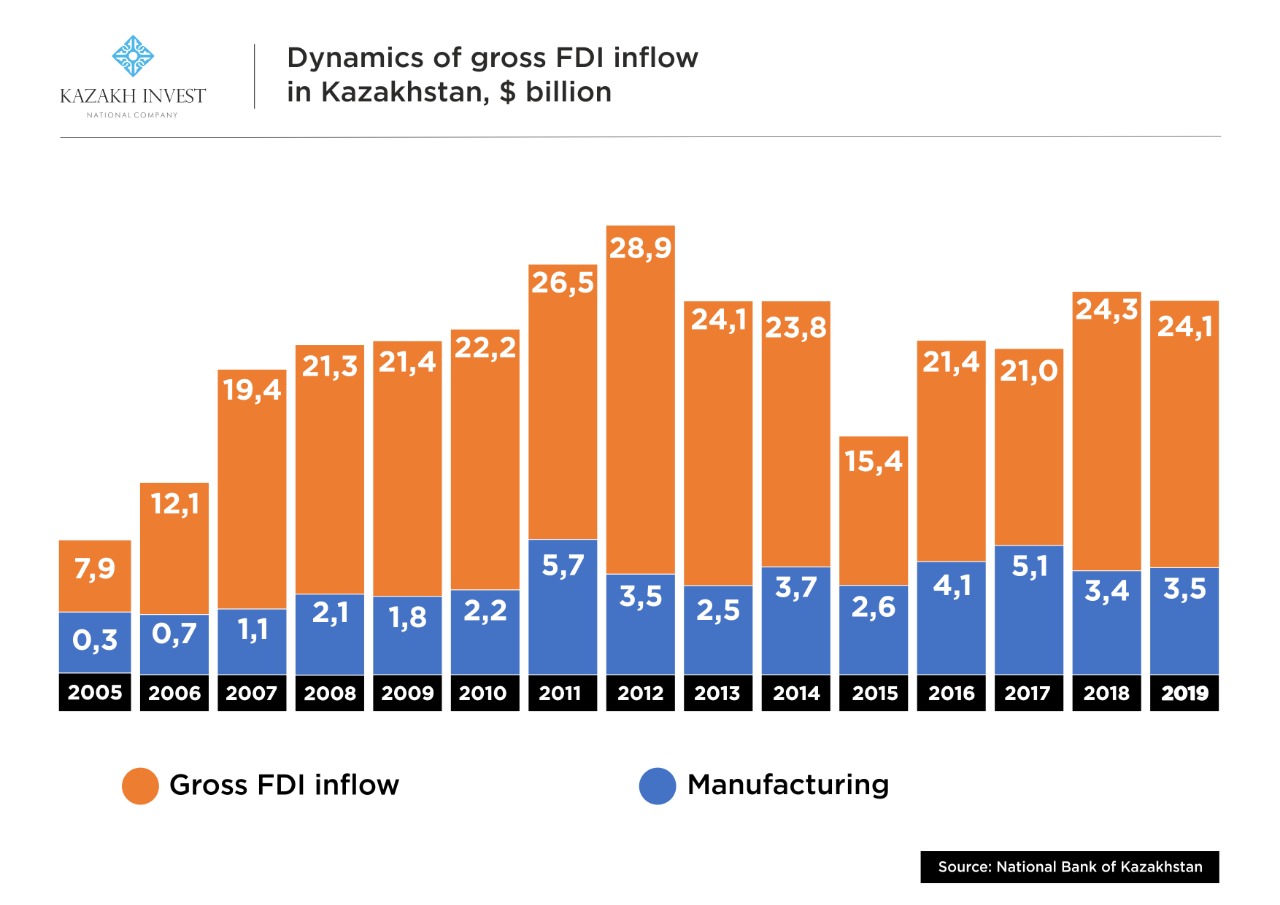 In 2019, mining and metallurgy accounted for the largest volume of foreign investment - 56.3%. The industry attracted record $ 13,586 million in foreign investment. The industry saw structural changes: FDI inflows to metal ores extraction sector increased by 60%, while FDI inflows to coal and lignite extraction decreased by 60%.
Over $ 3.5 billion were invested in manufacturing industry, $ 3 billion - in trade, $ 1.1 billion - in transportation and storage and over $ 1.0 billion - in finance and insurance industries.
Last year, investments in accommodation and food services increased 10.5 times (by $175.6 million), water supply - 3.1 times (by $18.4 million) and transportation – by 50.7% (by $ 371.7 million).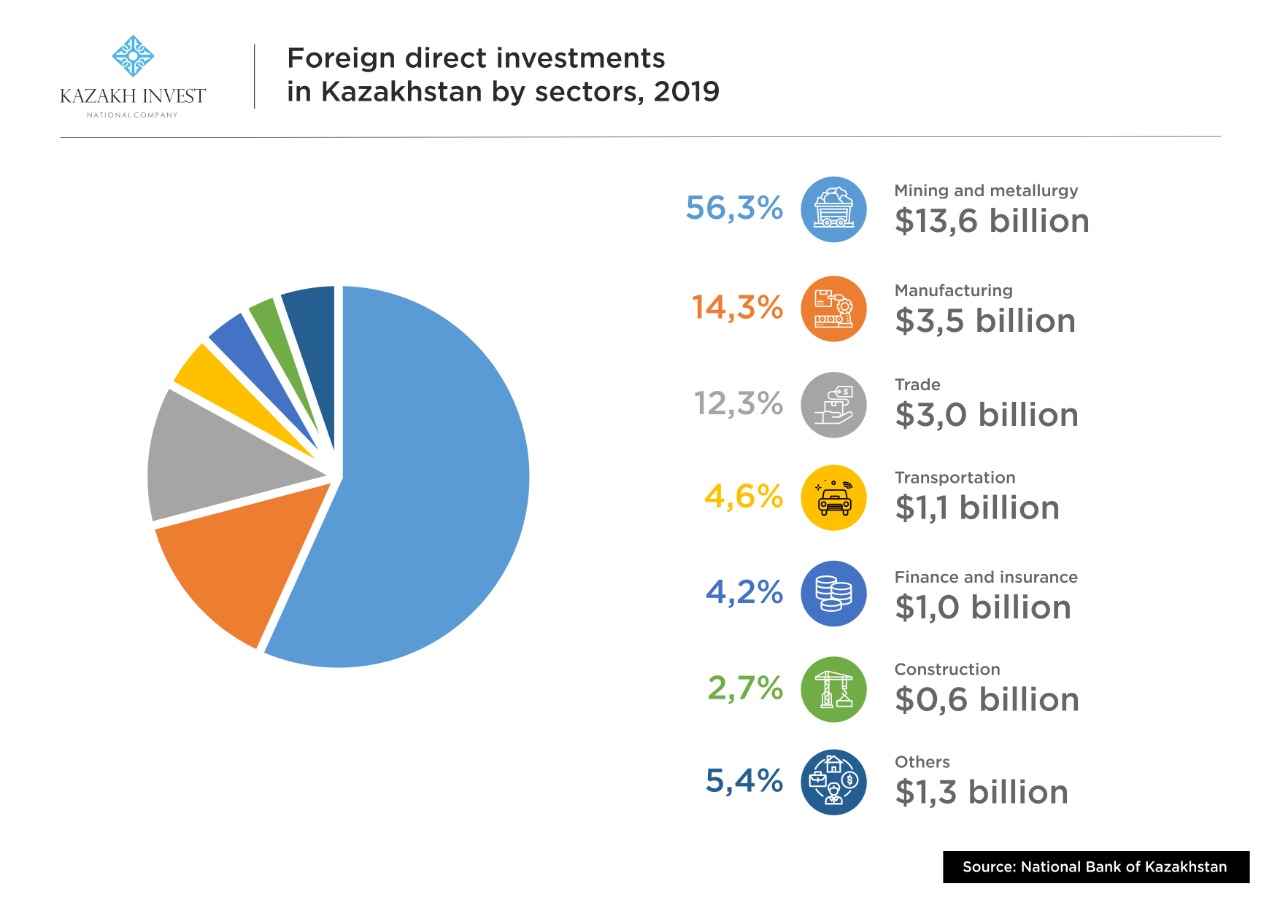 Against this background, a decrease in investments in the information and communications industry - by 31.4% (by $ 58.1 million), in professional, scientific and technical activities - by 24.8% (by $ 167.1 million), in financial and insurance industry - by 22.4% (by $ 293.2 million) turned out to be insignificant.
In turn, investors increased their capital expenditure on food, beverages and tobacco production by 50%. For instance, Indian investors with the support of KAZAKH INVEST implemented a project for the production of instant noodles in Turkestan region. The plant with a production capacity of 180 metric tons employs over a hundred local citizens on a shift basis. In addition to supplying the local market, investors export products to Uzbekistan, the Kyrgyz Republic and India.
WHO ARE THE TOP INVESTORS IN KAZAKHSTAN?
The top five countries investing the most into the economy of Kazakhstan remained unchanged in 2019. Being the largest investor, the Netherlands invested $ 7.3 billion in Kazakhstan (30.2%), followed by the USA - $ 5.5 billion (23.0%) and Switzerland - $ 2.2 billion. Notably, China outran the Russian Federation in terms of investments and took 4th place with $ 1.7 billion (7.0%), while the Russian Federation closed the top five - $ 1.4 billion (5.8%).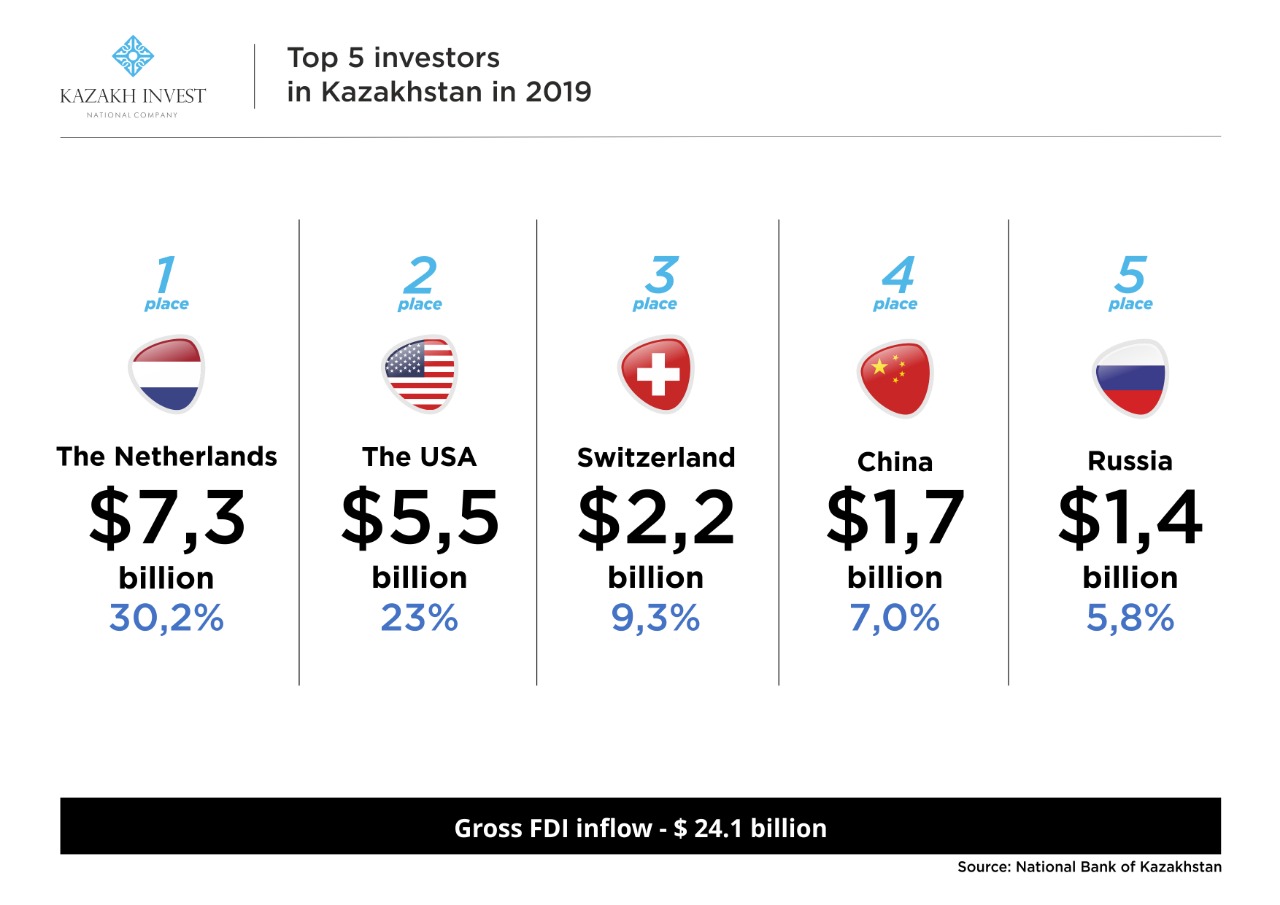 Along with the changes in the top-five, investors from Singapore hold the lead in terms of the investment growth dynamics. In 2019, the volume of gross FDI inflow from the city-state increased sevenfold and amounted to about $ 166 million.
Talking about Singaporean investments, one of the examples is a project for construction of education institutions in Nur-Sultan, Almaty and Shymkent by a Singaporean company KinderWorld International. To date, land plots have been allocated for the project. Thus, in the near future Singapore's school system will become available to schoolchildren in Kazakhstan.
Investments from Turkey also showed positive dynamics with a 20% growth. In 2019, Turkey invested a record amount of about $ 358 million in Kazakhstan's projects. One of the largest projects by Turkish investors is a plant producing 144 thousand tons of ferrosilicon per year in Karaganda region. The project value is over $ 93 million.
To date, investors from Turkey are implementing a number of projects in the fields of transportation (airport construction), engineering (production of household appliances), chemistry (production of soda ash), mining and metallurgy (exploration), tourism (hotel complexes), as well as 4 projects in the field of healthcare (hospitals and diagnostic center).
Notably, Belarus and France also showed positive investment dynamics. In 2019, Belarusian investors increased their investment by 50% from $ 59 million to $ 87 million, and French investors - by 17% from $ 916 million to $ 1.1 billion.
In turn, Belgium, Canada, Luxembourg, Germany and India demonstrated a decline in investment activities in Kazakhstan. These countries accounted for only $ 1.6 billion in 2019 compared to $ 2.1 billion in the previous year.
FORECASTS FOR 2020
According to UNCTAD forecasts, the coronavirus pandemic in 2020 could cause economy and foreign direct investment to shrink significantly, particularly in the developing countries. The developed countries have been intensifying their proactive policies and launching unprecedentedly "generous" packages to stimulate domestic demand by pouring money into the economy. If not preventing the global economic recession, such measures may result in avoiding the recession to turn into a long depression. They will also have a positive effect on developing countries and help to curb falling prices for both financial assets and commodities.
At the same time, UNCTAD significantly changed its assessment of the potential impact of the coronavirus pandemic on the global FDI flows. UNCTAD had projected earlier a stable level of global FDI inflows in 2020-2021 with a potential increase of 5%. Now it warns that flows may decrease by 30-40% and hit their lowest levels since the 2008-2009 financial crisis, should the epidemic continue throughout the year. In early March 2020, experts suggested that under the scenario of stopping the spread of the virus in the first half of 2020, the decrease in FDI will be around 5% of the previous year. However, if the outbreak continues until the end of 2020, then a 15% decrease in FDI is expected to compare with 2019.
This is due to the updated forecasts of the COVID-19 economic impact and revenue revisions of the largest transnational corporations (TNCs). For instance, 61% of the 100 largest TNCs confirm the rapid deterioration of global prospects. And 57% of them noted the coronavirus pandemic affected not only supply chain disruptions, but also the global decline in demand and sales. In addition, the 5,000 largest TNCs, which account for a significant share of global FDI, have now revised their income estimates in 2020 downward by an average of 30%. And this trend is likely to continue.
COVID-19's negative impact on investments will be felt strongest in the automotive (-47%), airlines (-116%) and energy industries (–208% considering the additional shocks caused by the recent drop in oil prices).
At the same time, it is worth noting that Goldman Sachs experts suggest that the economic crisis caused by the coronavirus pandemic will become the strongest in the US history, but at the same time the shortest in recovery time.
On 7 March this year, Bloomberg experts predicted four scenarios, drawing on the experience in China, the distribution of cases in other countries, estimates of risks to global supply chains, and a large-scale model of the global economy. Based on the most pessimistic scenario, the global economy could lose up to 2.7 trillion US dollars (2.38 trillion euros) due to the spread of the SARS-CoV-2 coronavirus. This is the equivalent to the gross domestic product of the United Kingdom.
Based on the one of the scenarios, in case China authorities are unable to cope with COVID-19 and South Korea, Italy, Japan, France and Germany—the major economies other than China that have seen the most virus cases— will also take a hit, the global economy will grow by only 2.3% in 2020. Before the new virus outbreak, Bloomberg predicted global economy to grow at strong 3.1%.
As for Kazakhstan's economy, the Asian Development Bank (ADB) predicts that "Kazakhstan's gross domestic product (GDP) growth will decline by 1.8% in 2020 due to the economic impact of COVID-19 as well as reduced oil and gas production in view of lowering prices". However, in 2021, the economy is expected to show 3.6% growth resulting from increased investments and higher oil revenues.
WHAT INDUSTRIES WILL ATTRACT INVESTMENTS IN 2020
To date, the monitoring system of KAZAKH INVEST comprises 172 investment projects worth $ 46.5 billion at the development stage. The projects will create about 58 thousand jobs.
In general, these projects cover such priority sectors of the economy as agribusiness, light industry, mining and metallurgy, machinery building, petrochemicals, renewable energy, logistics and others.
Of these, projects for construction of greenhouse complexes, meat processing plants, animal feed production plants, industrial gases production plants, mining and metallurgy plants, solar power plants and others, are planned for commissioning in 2020.
At the same time, construction of large projects involving TNCs, such as production and processing of potatoes, production of soda ash, high-quality lime, fruit processing and greenhouse complex on 1000 hectares is expected to commence this year.
Taking into account the abovementioned factors, volume of foreign direct investment might be reduced in 2020. Nevertheless, considering work already carried out, agreements reached, trends in the global economy and measures introduced by the Government, such as, for instance, "The Economy of Simple Things" program and SME support, KAZAKH INVEST experts expect that industries, such as manufacturing, food production, light industry, pharmaceuticals, ICT, domestic tourism, as well as logistics and warehousing will remain attractive for investors in 2020.