KAZAKH INVEST took part in the forum on regional trade and economic cooperation of the SCO countries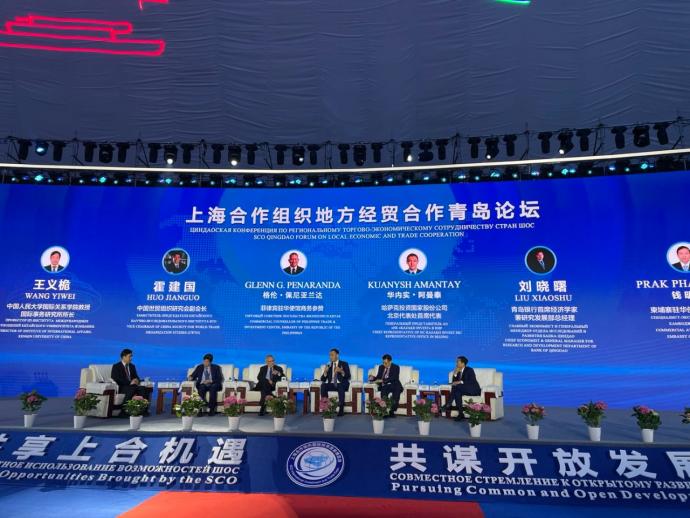 «KAZAKH INVEST» presented the investment opportunities of Kazakhstan at the large-scale platform of the forum on regional economic cooperation and the international trade and investment exhibition of the SCO countries in Qingdao (China).
The event was attended by about 1000 representatives of the business community and diplomatic missions, government agencies and associations of the SCO and ASEAN countries. The Kazakh delegation was represented by the Ambassador of the Republic of Kazakhstan to the PRC Gabit Koishybayev, as well as representatives of «Samruk Kazyna» JSC, «KAZAKH INVEST» NC» JSC, «KazTransGas» JSC, «KazMunayGas» NC» JSC, the AIFC and the business community of the Republic of Kazakhstan.
Within the framework of the session «Opportunities and Challenges for the Development of Comprehensive Cooperation between the SCO and the Comprehensive Regional Economic Partnership (RCEP)» Kazakhstan and China. In particular, the speaker noted the active interaction of the two parties in the development of joint economic zones, and also expressed hope for closer cooperation of the SCO countries in the field of transport and logistics, simplification of trade and mutual investments.
In addition, during the conference «Trade and Investments of the SCO Countries» the Representative Office of «KAZAKH INVEST» in the PRC presented the opportunities for the development of investment cooperation to the Chinese business community. In particular, foreign investors were presented with measures of state support for investments, financial and non-financial instruments to stimulate investors, as well as the export potential of Kazakh products in the PRC market and a number of specific projects in priority sectors of the economy of the Republic of Kazakhstan.
As a result of the forum, a memorandum of cooperation was signed between «KAZAKH INVEST» and the Administrative Committee of the China-SCO Demonstration Zone of Trade and Economic Cooperation. At present, the parties are studying the possibility of participation of the China-SCO Trade and Economic Cooperation Zone in transport and logistics facilities on the territory of the Republic of Kazakhstan.
It should be noted that the International Trade and Investment Exhibition of the SCO countries was organized within the framework of the forum, where Kazakh entrepreneurs presented their products. In particular, sunflower oils, confectionery, honey, flour, pasta, juices and camel milk powder were presented at the exhibition. Also, visitors to the Kazakh pavilion had the opportunity to get acquainted with the trade, economic, investment and tourism potential of Kazakhstan.