KAZAKH INVEST Invited for Cooperation about 3000 International Companies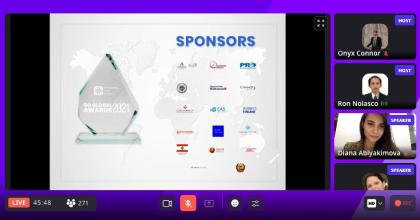 KAZAKH INVEST presented the investment potential of Kazakhstan to the representatives of more than 3000 international companies from 50 countries around the world at the online forum "Go Global". The event, which became the largest dialogue platform between international investment promotion agencies with the representatives of business, financial organizations, venture funds and trade associations, was organized by the International Trade Council.
"Go Global" forum was attended by companies seeking to expand to the international markets from various fields, including logistics, e-commerce, education, fintech and modern technologies, robotics, artificial intelligence, and others.
During the event, the representative of KAZAKH INVEST Diana Ablyakimova presented the country's investment opportunities in the priority sectors of the economy, as well as the measures of state support for international business in Kazakhstan.
"Over the past few years, Kazakhstan has introduced a number of large-scale reforms, adopted the necessary amendments to the tax, business and customs codes, that contribute to the systematic diversification of the economy and the creation of favorable conditions for successful business. In accordance with the global best practices, Kazakhstan offers comprehensive support to investors, including the provision of in-kind grants, exemption from taxes and customs duties, and more. At the same time, KAZAKH INVEST is ready to provide a full range of services for the implementation of investment projects in Kazakhstan", – said Diana Ablyakimova.
In turn, the participants of the event showed a strong interest in the potential of the priority sectors of Kazakhstan and promising opportunities for cooperation with Central Asia largest economy. The representatives of large companies particularly noted the competitive advantages for foreign investors in the country.
As a result of the event, KAZAKH INVEST received a prestigious award "Most Attractive Emerging Market" for promoting the investment image of Kazakhstan in the international arena. Around 30 international investment promotion agencies were nominated for the award.
It should be noted that the award assessment was carried out based on such criteria as differentiation, achievements and innovative and integrated approaches for cooperation with investors.