KAZAKH INVEST and «Yildirim Holding» discussed the implementation of investment projects in Kazakhstan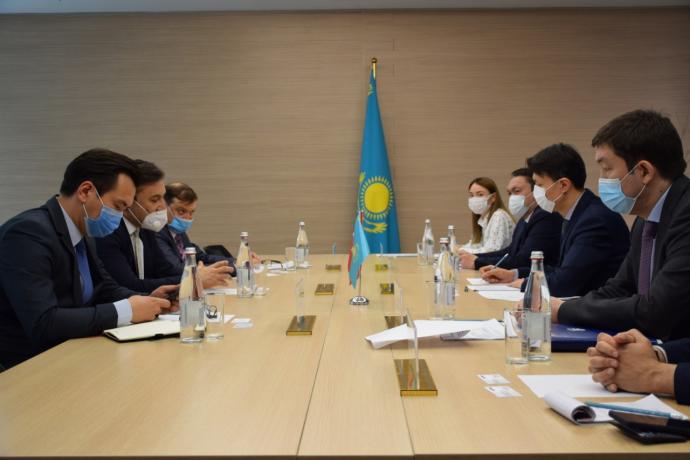 Chairman of the Board of KAZAKH INVEST Meirzhan Yussupov held a working meeting with the management of one of the largest Turkish investors in Kazakhstan - Yildirim Holding. During the meeting, the parties discussed the implementation of a number of investment projects of the holding and the necessary measures of state support.
As Meirzhan Yusupov noted during the talks, Yildirim is a strategically important partner for Kazakhstan. Investors make an invaluable contribution to the development of the Kazakh mining industry and the country's economy as a whole.
«We, as a «one-stop shop» to support investment projects in priority sectors of the economy, we are ready to provide full support in the implementation of your investment projects in Kazakhstan» Meirzhan Yussupov said.
So far, the total investment of a Turkish company in the country is about $ 500 million. According to this indicator, Yildirim Holding is the largest Turkish investor in Kazakhstan.
«We believe that our investments in Kazakhstan so far can be considered a success story, and we view Kazakhstan as one of the key, basic countries for expanding international business, and we are ready to expand our presence in the country» underlined the Vice President of the Holding in the CIS Mr. Metin Oktay.
As a result of the meeting, the parties agreed on active cooperation in resolving current issues arising during the implementation of projects.
It should be noted that today the company is implementing a number of investment projects for the extraction and production of chromium concentrates in the Aktobe region, geological exploration in 4 regions of Kazakhstan and a project for the production of soda ash in the Zhambyl region.
For reference:
Yildirim Holding is a Turkish diversified industrial group founded in 1993.
Today the Holding operates in 9 sectors with an annual turnover of $ 2.2 billion. The Holding employs about 13 thousand people on 4 continents in 51 countries of the world. The total amount of the holding's assets exceeds USD 5.6 billion.
The holding is the fourth largest group in the global chrome industry (one of the world's largest producers of chrome ore and the world's second largest producer of high-carbon ferrochrome) with factories in Turkey, Kazakhstan, Russia and Sweden. The holding owns 24% of shares in the world's third largest container shipping operator CMA-CGM (France).