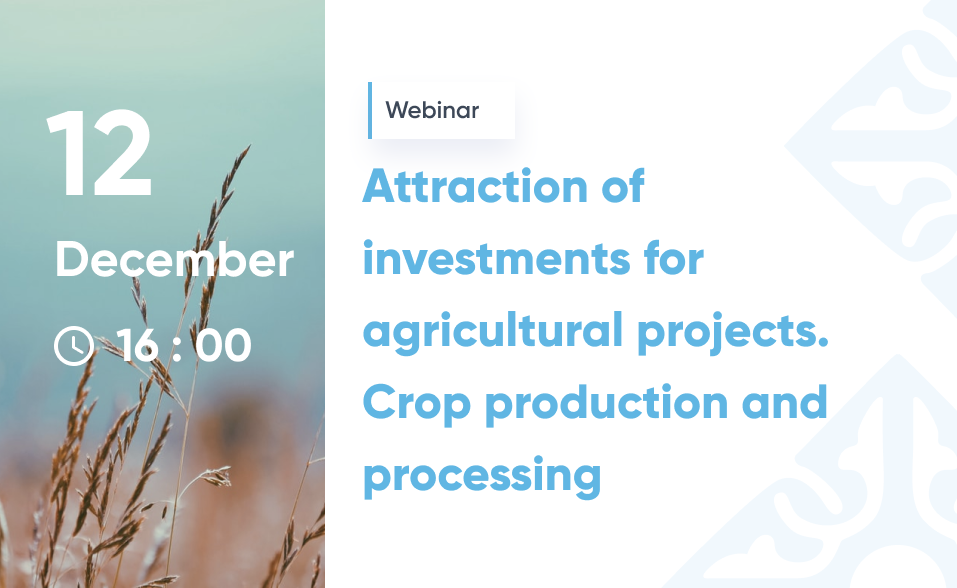 Webinar: "Attraction of investments for agricultural projects. Crop production and processing"
Nur-Sultan city, Kazakhstan
A webinar on "Attraction of investments for agricultural projects. Crop production and processing" will take place on 12 December 2019 at 4:00pm.
The webinar will cover the current trends in agriculture development, promising niches for investment in Kazakhstan as well as interaction with domestic farmers for development of raw material base, state support measures, open export markets, etc.
Experts from the Ministry of Agriculture of the Republic of Kazakhstan, industry associations, business representatives and leading consultants will participate in the discussion during the webinar.
Date: 12 December 2019, 4:00 pm
Working language: Russian
Link to view the webinar: https://www.youtube.com/watch?v=d_p7D7B-WS0&feature=youtu.be
Moderators:
1. Ulbosyn Sarybayeva - Managing Director, KAZAKH INVEST
2. Madi Kanafin - Project Manager, KAZAKH INVEST
List of speakers:
1. Shaimerden Akhmetov - Deputy Director of the Investment Policy Department of the Ministry of Agriculture of the Republic of Kazakhstan
2. Gulnar Bizhigitova - Head of the Department of the Production and Processing of Plant Production Ministry of Agriculture of the Republic of Kazakhstan
3. Zhumagulov Meirman Amanovich - Chief Expert of the Department of Production and Processing of Plant Products of the Ministry of Agriculture of the Republic of Kazakhstan
4. Marat Uzbaev - head of department Committee for Land Management of the Ministry of Agriculture of the Republic of Kazakhstan
5. Alia Zhetenova - Director of Deloitte
6. Kairat Bisetaev - Chairman of the Association of Potato and Vegetable growers of Kazakhstan
7. Konstantin Nevzorov - President of the Association of Oil and Fat Union of Kazakhstan