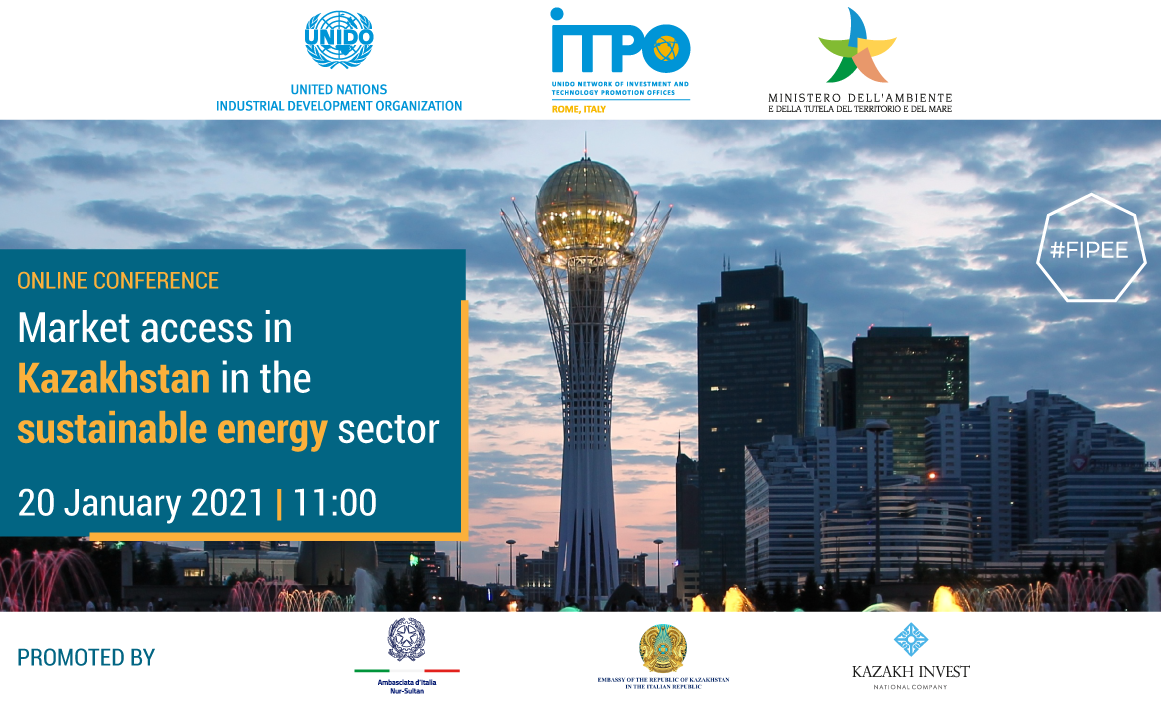 Market access in Kazakhstan in the sustainable energy sector
Online
The virtual event "Market access in Kazakhstan in the sustainable energy sector", organized by UNIDO ITPO Italy, is taking place on Wednesday 20th January 2021 at 4:00 pm (Nur-Sultan time) with the goal of promoting how to access the Kazakh market in the sustainable energy sector to the interested Italian private sector.
Bringing together prominent Kazakh and Italian institutional and business stakeholders in the field, the online conference will explore opportunities for cooperation in the Kazakh sectors of renewable energies, energy efficiency and innovative eco-friendly technologies, as well as success cases of Italian companies operating locally, promoting business synergies between Italy and Kazakhstan. An interactive Q&A session will conclude the event to further knowledge exchange for potential matchmaking activities among counterparts.
Promoted by the Embassy of Italy in Nur-Sultan, the Embassy of the Republic of Kazakhstan in the Italian Republic and Kazakh Invest, the initiative is organized in the framework of the project "Fostering international partnerships between companies and/or institutions operating in the energy and environment sectors", funded by the Italian Ministry of the Environment, Land and Sea and implemented by UNIDO ITPO Italy.
INSIGHTS
Kazakhstan is the most performing economy in Central Asia, in both absolute and per capita terms. Not only, it possesses large reserves of oil, gas, coal as well as minerals and metals, but also it has great renewables potential that is attractive to renewable energy developers.
In order to meet the country's renewable energy targets and attract private investment on its path towards a more sustainable and lower-carbon economy, Kazakhstan has adopted a successful renewable energy auctions mechanism as well as promoted new green projects that are changing the national energy sector and diversifying its energy mix.
To register please follow the link: https://us02web.zoom.us/webinar/register/WN__h6xETLOR1O8YIbbMFeaJA
Agenda
Moderation by Mr. Pierandrea Magaraci,UNIDO ITPO Italy
11:00



11:05





11:10


11:20


11:30


11:40



11:50



12:05


12:15


12:30

WELCOME SPEECH

Ms. Diana Battaggia - Head, UNIDO ITPO Italy



OPENING REMARKS

H.E. Pasquale D'Avino – Ambassador, Embassy of Italy in Nur-Sultan



SPEAKERS

Mr. Salvatore Parano – Director, Italian Trade Agency Kazakhstan
The Italian green energy sector and opportunities for cooperation in Kazakhstan

Ms. Aliya Salimzhuarova – Project Manager RES, Kazakh Invest

Opportunities in the renewable energy sector

tbd - Astana Invest
Investing in Nursultan City

Mr. Alex Stillavato – Managing Director, Arm Wind LLP (ENI Renewables Subsidiary in Kazakhstan)

Leading the energy transition: Eni's experience in renewable business in Kazakhstan

Mr. Michelangelo Guarducci – CEO & Vice President, SSE

Mr. Kabduali Omarbekov – President, Zeinet&SSE

SSE Group in Kazakhstan – How SMEs can access the renewable energy value chain

Mr. Giovanni Testa – Sales Engineer, Windkinetic
Innovative technology for off grid power systems in Kazakhstan



Q&A SESSION



CLOSING REMARKS