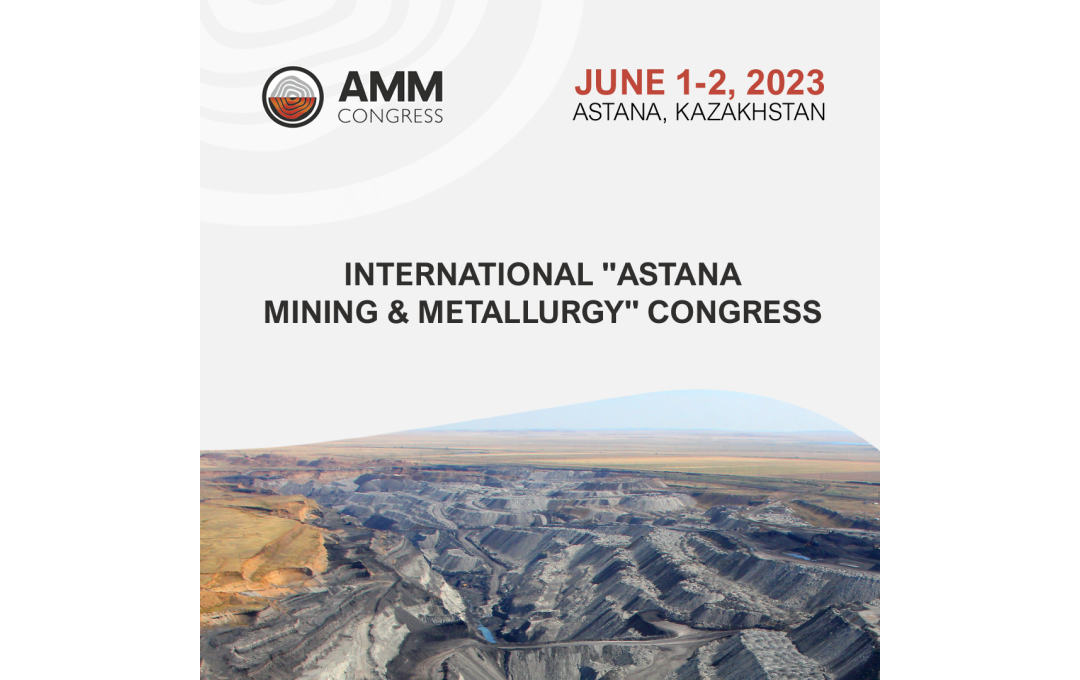 International "Astana Mining & Metallurgy" Congress
Astana city, Kazakhstan
INTERNATIONAL MINING AND METALLURGICAL CONGRESS WILL BE HELD ON JUNE 1-2 IN THE CAPITAL OF KAZAKHSTAN
The 13th International "Astana Mining & Metallurgy" Congress - АMM 2023 will be held on June 1-2 2023, Hilton Astana Hotel, Astana.
AMM 2023 will be traditionally represented by a Congress and an exhibition of innovative proposals from mining and metallurgical companies.
AMM EXHIBITION
The exhibition within the AMM Congress is a unique platform for finding direct business contacts.
Among the exhibitors are more than 35 companies from such countries as Kazakhstan, China, France, Russia, USA, Finland, Japan, Switzerland.
To visit the exhibition, you need to register online using the AMM2023KZI promo code at the link https://amm.kz/ru/poluchite-bilet-na-vystavku
AMM FORUM
Главная тема Конгресса в 2023 году: «ЗЕЛЕНЫЕ ТЕХНОЛОГИИ ДЛЯ УСТОЙЧИВОГО РАЗВИТИЯ ГМК».
The speakers at the AMM 2023 Congress will include Maros Sevcovic, Vice President of the European Commission; Edson Ribeiro, President of CRIRSCO; Husein Arslan, Chairman of YDA Group; Chen Jinghe, Chairman of Zijin Mining; Jeff Townsend, founder of the Critical Minerals Association (UK, London); Jason Holden, Lead Analyst at S&P Global Commodity Insights; Andreas Kullmann, CEO of DENA German Energy Agency, and many others. During the panel sessions, experts will respond to issues about their experiences with sustainable development, projects and plans, decarbonization of industry and cooperation with Kazakhstan in the field of green technology and critical minerals.
➡ Find the detailed program of the forum: https://amm.kz/ru/forum/programma-foruma
➡ To purchase a delegate pass, write us at Olga.Remorenko@iteca.events
THE GOLDEN HEPHAESTUS
The Golden Hephaestus annual industry competition, which has already become a national favorite, will take place on June 2 in a new location, where the best representatives of the mining and metallurgical sector will receive coveted awards in 15 nominations. The ERG (Eurasia Group) is the General Partner of the competition.
CAREER FAIR
There will be a Career Fair during the two days of the AMM Congress where mining, processing, and metallurgical companies will give the best students an opportunity to become a part of their team and get a job with the market leaders.