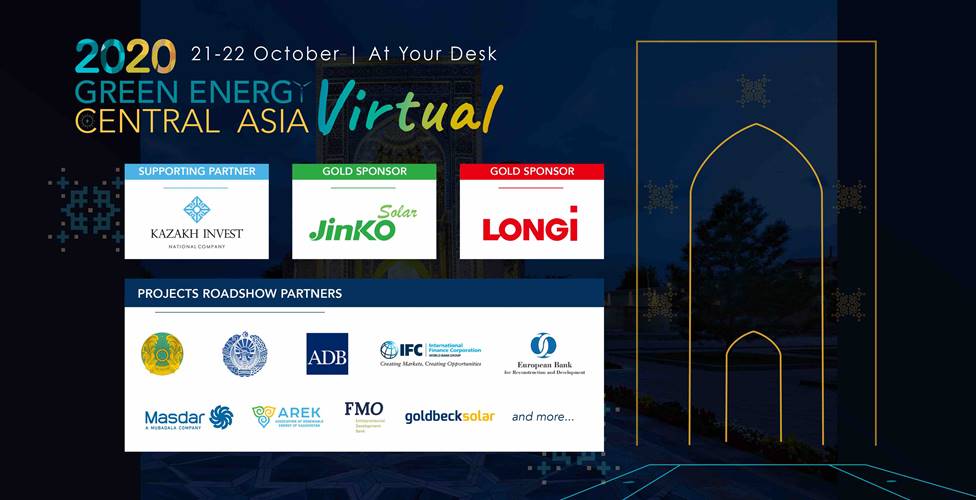 Green Energy Future Central Asia Virtual Conference
Nur-Sultan city, Kazakhstan
KAZAKH INVEST, Ami and the organizing committee would like to invite you to participate the virtual conference Green Energy Future Central Asia 2020 will take place on 21-22 October 2020.
Virtual Event Website: https://www.centralasia.greenenergy-future.com/virtual
Get the Advanced Virtual Ticket: https://www.xing-events.com/gefca2020.html

Use Promotional Code: KAZAKHINVEST10 to get 10% discount.

GEFCA provide a two-day vital conference and hybrid business platform that brings key stakeholders in Central Asia renewable energy community together to identify solutions and strategies to foster a secure, affordable and low-carbon renewable energy mix for the Kazakhstan, Kyrgyzstan, Tajikistan, Turkmenistan and Uzbekistan.

Key Topics at GEFCA2020:

Country long term plan on accelerating the uptake of renewables
Tap into Central Asia with CAREC program
Project roadshow: Masdar, Goldbeck solar, SkyPower Global
Developers' talk: key factors to win the auction with PPP
Risk Mitigation in Financing
GEFCA also support Virtual Booth:
Use Promotional Code: KAZAKHINVEST10 directly contact Amy Lee amy@leader-associates.com M: +86 15002115587 (WhatsApp) or Jay Hsu Jay@leader-associates.com M: +86 18601712917 (WhatsApp) to get 20% discount.