Telecommunications
More than 14 million citizens of Kazakhstan regularly use Internet services, thus the Internet penetration rate is 77%, the highest level in Central Asia
Kazakhstan is higher than the rest of the countries in central Asia by the "internet connectivity" index
The volume of production of the IT market in 2019 amounted to 932 billion tenge
Employment in the IT market in 2019 is 69 507 people
The IT market in 2019 attracted investments in the amount of 18.8 billion tenge
Over the past 5 years since 2013, there has been a steady growth in revenue in the telecommunications market, with the exception of a decline of 1% in 2016. In 2017, the market began to gain momentum again and grew by 4.9% compared to 2016.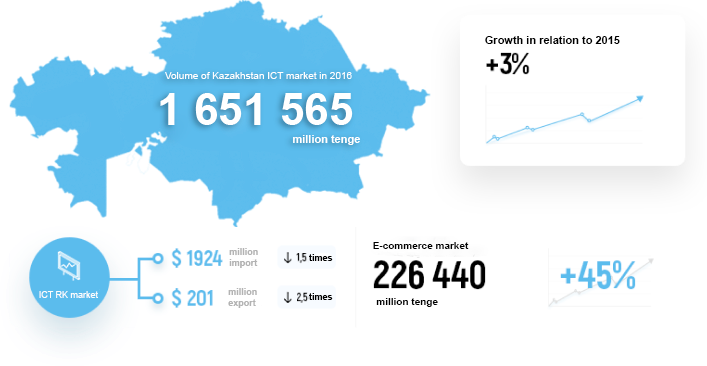 Currently, the volume of the telecommunications market is represented by two large segments of B2C - services rendered to the population (398.9 billion tenge) and B2B - services rendered to the corporate sector, including large, medium and small business, services to the public sector, services to telecom operators (312, 0 billion tenge).
Data transfer

TV (including satellite)

Telephony

Operators

ICT

Internet fixed

Mobile communication (voice, internet)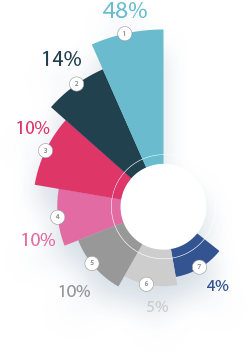 The e-commerce market is one of the most progressive markets in the country. At the end of 2016, the total volume of e-commerce amounted to 226,440 million tenge, which is 45% more compared to 2015. All e-commerce sectors have shown an increase over last year.
In 2018, the state program "Digital Kazakhstan" was adopted. At present, 121 projects are being implemented under the Digital Kazakhstan program. In the framework of the Digital Kazakhstan program, the following 5 directions and 17 initiatives of the program are taken: Creating an Innovation Ecosystem, Developing Human Capital, Digitization of Economic Sectors, Transition to a Digital State, Implementation of the Digital Silk Road
In 2018, the Astana Hub International Technopark of IT Startups opened to become the core and the engine of the development of the innovation ecosystem of Kazakhstan and an internationally recognized hub for the development of the technology business.