Kazakhstan's Foreign Minister Holds Briefing for Foreign Diplomatic Corps on Current Situation in the Country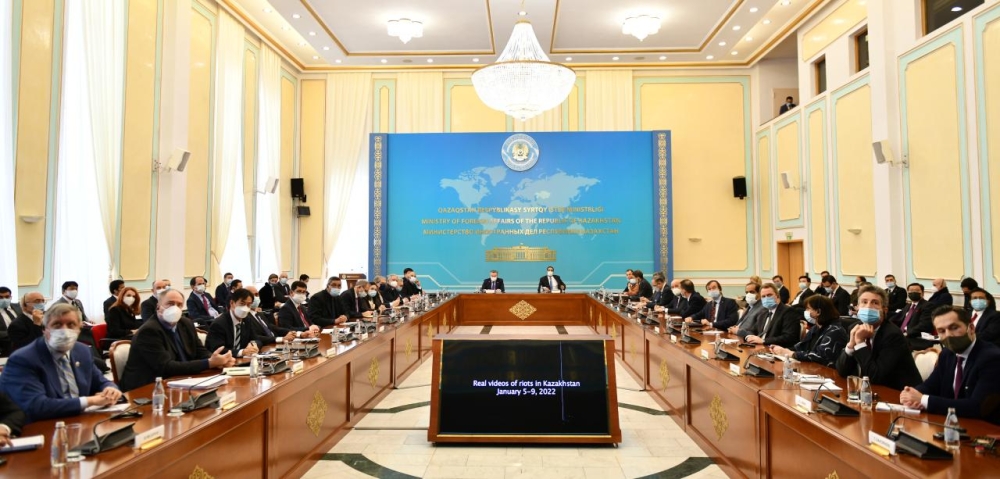 Nur-Sultan, January 13, 2022 - Briefing by Deputy Prime Minister and Minister of Foreign Affairs of the Republic of Kazakhstan Mukhtar Tileuberdi on the current situation in the country was held at the Ministry of Foreign Affairs with the participation of the accredited foreign diplomatic corps.
In his speech, Minister Tileuberdi presented a chronology of events since the beginning of January 2022 in various regions of the country, as well as their main consequences. The diplomatic corps was informed about the reasons for the incident and the reaction of the state.
The Minister noted that the situation in the country has completely stabilized, the CSTO peacekeepers have mainly completed their mission. The foreign policy of the Republic of Kazakhstan remains committed to its fundamental principles. All our international obligations remain in full.
The Minister elaborated on the tasks for the renewal of society and the economy of the state set by President of Kazakhstan Kassym-Jomart Tokayev to the newly formed Government during a speech in the Majilis of the Parliament on January 11.
In particular, the Government will take all possible measures to restore the confidence of domestic and foreign investors and trading partners in the economy of Kazakhstan, a new Concept of Investment Policy will be developed.
In turn, expressing solidarity with the people of Kazakhstan at this difficult time, heads of diplomatic missions of foreign states thanked for the opportunity to receive first-hand information and expressed support for the efforts of the Government and President Kassym-Jomart Tokayev to restore the country after the tragic events.
Special attention was paid to the plans for the implementation of a set of post-crisis measures proposed by the President and aimed at forming a fundamentally new paradigm for the development of Kazakhstan.
At the end of the meeting, Minister Tileuberdi answered the questions of the diplomatic corps in detail.
Source: The Ministry of Foreign Affairs of the Republic of Kazakhstan