Kazakhstan as a Place for Intelligent Manufacturing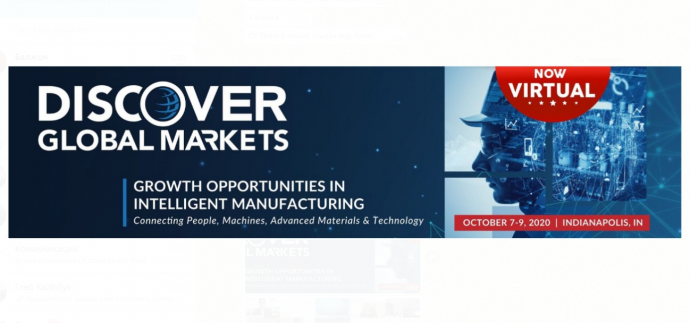 KAZAKH INVEST presented Kazakhstan's investment opportunities in the key sectors as a speaker at «Discover Global Markets» worldwide business event hosted by the United States Department of Commerce.
The 2020 Discover Global Markets business development forum dedicated to Growth Opportunities in Intelligent Manufacturing is the U.S. Department of Commerce's flagship event for U.S. investors, exporters, and economic development organizations. It was attended by high-level government officials and business leaders from 30 countries, including Austria, Brazil, Canada, Chile, France, Germany, Italy, South Korea, Singapore, Sweden, Turkey, and others.
Discover Global Markets event focused on smart technology aspects of various industries, including automation and digital services, transportation infrastructure and automotive technology, energy efficiency and storage. Targeted products and services included manufacturing machinery, composites, electric and autonomous vehicles, next generation batteries, automation products, supply and security solutions, wearables, sensors and digital services, among others.
Following the video presentation of Kazakhstan as a destination for global investments, Zhandos Temirgali, Advisor to the Chairman of KAZAKH INVEST, highlighted that «When we talk about advanced manufacturing, Kazakhstan has a huge advantage based on an enormous natural resources base. The researchers estimate that there are still over 5000 unexplored deposits in Kazakhstan valued over $46 trillion. It is extremely important for modern high-tech production that among them there are large reserves of nickel, lithium, cobalt, manganese, aluminum, copper, as well as rare earth metals. All components of a modern smartphone and electric vehicle can be successfully produced locally. Kazakhstan has a direct access to the market of half a billion consumers in the neighboring countries. The important aspect is that besides export opportunities we have a large internal market, which associated with oil and gas industry, mining sector, and the general consumer demand. In 2019 Kazakhstan imported $23 billion of machinery production. KAZAKH INVEST constantly analyzes the investment opportunities of Kazakhstan and recommends over 40 product categories for localization, including electrical equipment, oil and gas equipment, as well as automotive goods».
Zhandos Temirgali also noted that high-tech manufacturing is one of the the priority sectors for industrial and innovative development of Kazakhstan. There are about 16,000 manufacturing enterprises, including more than 1,000 in mechanical engineering production. Today the country is ready to introduce the latest technologies and create advanced manufacturing facilities.
In Kazakhstan, the system of state support for investors is multi-level and includes various industry benefits, as well as an investment contract that enables tax exemptions. The government of Kazakhstan provides comprehensive support for investment projects that includes fiscal incentives (such as various subsidies, exemption from Corporate Income Tax, VAT, Land Tax, and Property Tax) and non-fiscal incentives (such as free plot of land and infrastructure). In accordance with the global best practices for investment attraction, there are 13 special economic zones all over Kazakhstan that provide established infrastructure and a wide range of investment preferences. There are also have 24 industrial zones with turnkey infrastructure provided.
U.S. Department of Commerce is an executive department of the U.S. federal government (formed in 1903) concerned with promoting economic growth. Its goal is to promote job creation and economic growth by ensuring fair and reciprocal trade, providing the data necessary to support commerce and constitutional democracy, and fostering innovation by setting standards and conducting foundational research and development. Through the bureaus and more than 46 thousand employees located in all 50 states, every U.S. territory, and more than 86 countries, Department of Commerce provides U.S.-based companies and entrepreneurs various tools through programs such as the Decennial Census, the National Weather Service, NOAA Fisheries, and the Foreign Commercial Service.