KAZAKH INVEST presented investment opportunities in the mining and metallurgy industry at the international congress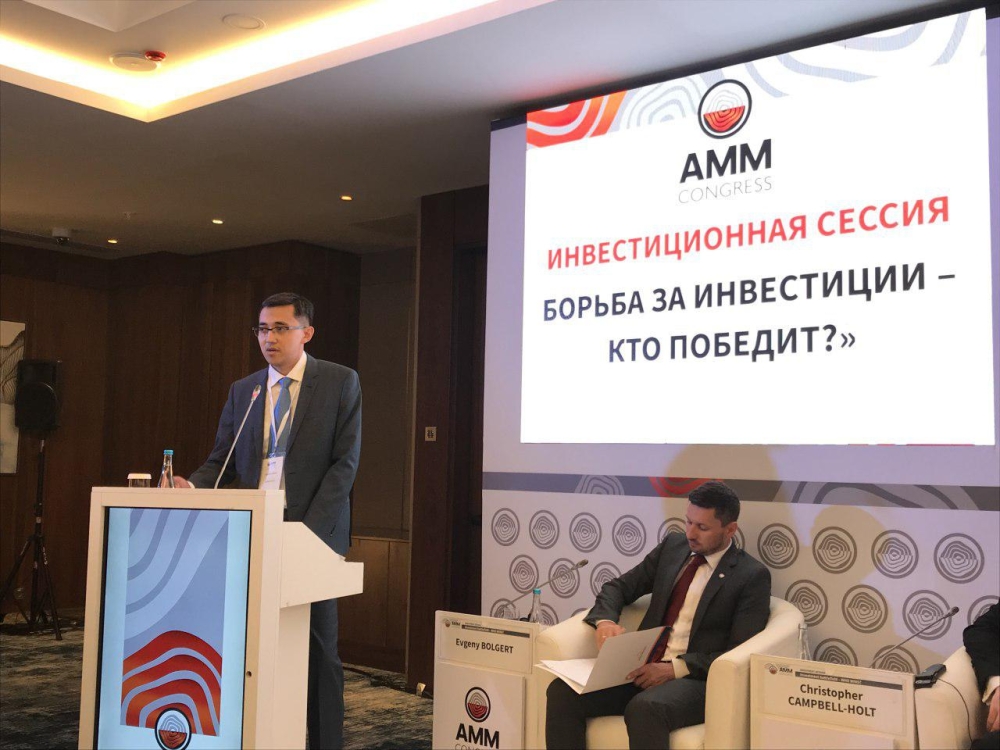 Representative of KAZAKH INVEST Almas Agibayev presented Kazakhstan's investment opportunities in the mining and metallurgy industry at the investment session of the "Astana Mining & Metallurgy" Congress (AMM), dedicated to digitalisation and industry investment prospects.
"KAZAKH INVEST, having a wide network of representatives abroad and in all the regions of Kazakhstan, provides a full range of services to support investment projects from an initial idea to implementation as well as during the post-investment period. Today, KAZAKH INVEST monitors more than 25 projects worth $ 9.7 billion in the mining and metallurgy industry. Of these, preparation of documentations as well as construction and installation works commenced for 10 projects, while 15 projects worth $ 7.4 billion are currently at the development stage, whereby we conduct negotiations and comprehensive expertise with potential investors," – said Almas Agibayev.
In addition to providing comprehensive support to foreign investors, KAZAKH INVEST is engaged in search and identification of new promising niches for potential global players in the mining and metallurgy industry. For the second consecutive year, KAZAKH INVEST has been working on "packaging" of niche projects in cooperation with international consulting firms based on the international standards.
"Out of 60 niche projects "packaged" last year, 20 projects are related to the mining and metallurgy industry. Predominantly, these are small projects for extraction and processing of metals, which require further exploration in order to commence mining operations. We have been actively promoting these projects during all events organised by KAZAKH INVEST and the Ministry of Foreign Affairs. Certainly, potential investors show interest. For some projects, we have already connected potential foreign investors with domestic project initiators. Currently, we have ongoing negotiations," – noted Almas Agibayev.
Kazakhstan has vast reserves for attracting investments in the mining and metallurgy industry. According to Almas Agibayev, attractive niches may include projects for development of prospective copper sites, such as Koskol, Soyuznoe, Bakalyadyr, as well as projects for expansion of Kazakhstan's primary aluminium production in view of growing global demand and gold production associated with development of new deposits. "Projected gold resources in Kazakhstan are estimated at 9.5 thousand tonnes. According to the estimates, there is an additional potential to attract at least $10 billion of investments for extraction and processing of gold ores," - said Almas Agibayev.
Another sector with high growth potential is mining and processing of rare earth metals. The speaker noted that "in terms of prospects for rare earth metals production, there is a high interest in the world's largest tungsten deposits in Karaganda region (Northern Katpar and Kairakty), which may attract up to $1 billion of investments and make Kazakhstan one of the world's leading players in the world in ammonium paratungstate. Also, another promising project includes the development of Bala-Sauskandyk, a large vanadium-containing ores deposit in Kyzylorda region. The project involves construction of a plant for processing of vanadium concentrate along with production of vanadium pentoxide and vanadium concentrates. We are also seeing certain interest in lithium due to projected improvements in the global pricing policy."
KAZAKH INVEST continues active work on searching and identifying promising investment projects as well as on attracting investors for projects implementation in the mining and metallurgy industry.
***
KAZAKH INVEST is the official partner of AMM Congress, which is the key platform for discussing topical issues of the mining and metallurgy industry in Kazakhstan. Every year, over 60 global experts, including government officials and public figures, world-renowned scientists, C-level executives of the largest companies, discuss with the delegates the current industry trends, developments and prospects at the AMM Congress.