Exploring Investment Opportunities and Cooperation between Kazakhstan and the U.S.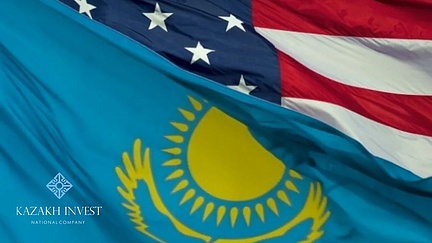 Kazakhstan is a country with a range of investment opportunities due to its diverse and large economy with a focus on energy, mining, agriculture, logistics, infrastructure, chemicals, petrochemicals, and healthcare. The country has a stable political environment and has been actively working to improve its business climate, making it an attractive place for doing business. Its strategic location at the crossroads of Europe and Asia makes it a major transportation hub. The country has a growing consumer market that can provide opportunities for businesses
The country is well-known for its abundance of natural resources, including oil, natural gas, and minerals, which have traditionally been a major draw for foreign investment. However, Kazakhstan has been also making efforts to diversify its economy and attract investment in other sectors, such as agriculture, transportation, renewable energy and manufacturing.
In recent years, the government of Kazakhstan has implemented a number of legal and regulatory reforms to make it easier for businesses to operate in the country. The country established the Special Economic Zones, which offer special benefits and incentives for investors. These efforts have helped to create a more business-friendly environment, and we are seeing an increasing number of foreign investors taking advantage of the opportunities available in Kazakhstan.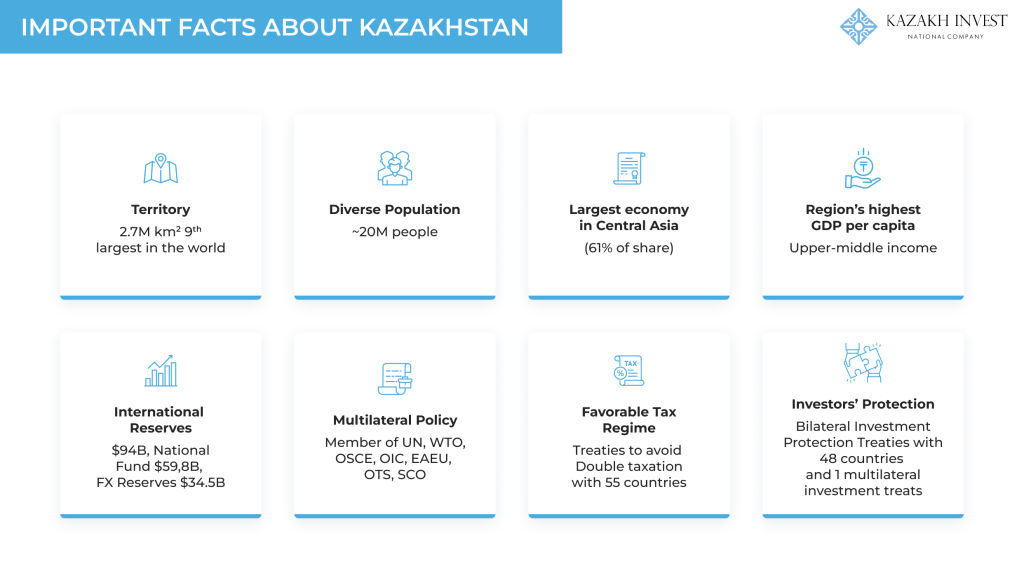 According to the newly adopted Concept of Investment Policy, the aim of the country is to increase the level of investment in fixed capital to 25.1% of GDP and the inflow of foreign direct investment to $25.5 billion by 2026. Nevertheless, the gross FDI inflow in Kazakhstan reached $28 billion in 2022, a record-high in the past ten years.
In the past, about 75% of foreign investments in Kazakhstan went to extractive industries such as oil and gas. However, in the last year, the percentage of foreign investment in these sectors has decreased to 43% as more investments have been directed towards the processing industry.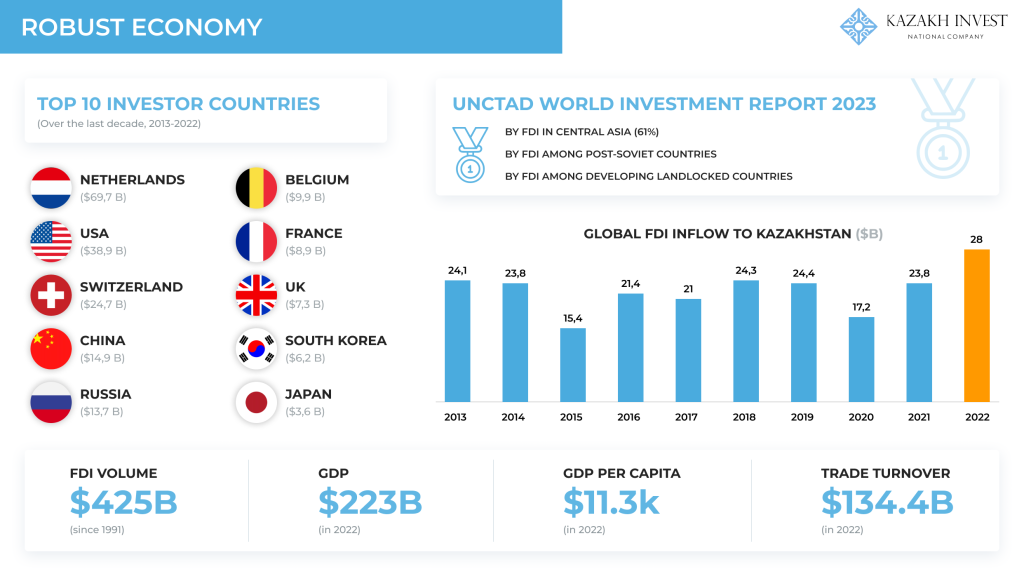 The United States has emerged as one of Kazakhstan's foremost partners, demonstrating a substantial commitment to mutual economic growth. The U.S. stands as the second-largest investor in Kazakhstan's economy. Since 2013, the Republic of Kazakhstan has witnessed a remarkable influx of direct investments from the U.S., totaling an impressive $39 billion. Notably, in 2022, FDI from the U. S. surged by 82% compared to the previous year, reaching $5.1 billion, following a strong inflow of $2.8 billion in 2021.
As of January 2023, 607 joint ventures and companies with U.S. capital have established operations in the Republic of Kazakhstan. These include industry giants such as Chevron, General Electric, Microsoft, EPAM, Wabtec, PepsiCo, Pfizer, Honeywell, and a host of other influential entities. These American corporations have not only contributed to Kazakhstan's economic landscape but have also fostered technological innovation and job creation.
The rising trade volume, direct investments from the United States into Kazakhstan's economy, and the presence of numerous large companies clearly indicate that both nations have acknowledged the vast potential within each other's markets.
Kazakhstan, a global energy player with substantial oil and gas reserves, has a history of collaboration with the U.S. energy firms, especially in projects like the Kashagan oil field. As Kazakhstan continues to develop its energy infrastructure and expand production, opportunities abound for the U.S. companies in exploration, production, technology transfer, and processing.
Furthermore, American expertise in renewable energy technologies, including solar, wind, and hydroelectric power, presents an avenue for collaboration. Both countries can engage in renewable energy projects within Kazakhstan. The U.S. proficiency in clean energy solutions can propel Kazakhstan's renewable energy sector forward, aiding in its sustainability objectives. This partnership may involve investments in solar and wind farms, the establishment of smart grid systems, and the adoption of energy storage technologies.
Kazakhstan's strategic location as the crossroads between Europe and Asia has driven substantial investments in transportation and logistics infrastructure. American companies specializing in logistics, railways, and port operations can benefit from the country's efforts to improve connectivity and reduce transit times. Moreover, as part of the China's Belt and Road Initiative, Kazakhstan offers a vital corridor for American companies seeking to expand their presence in Eurasia.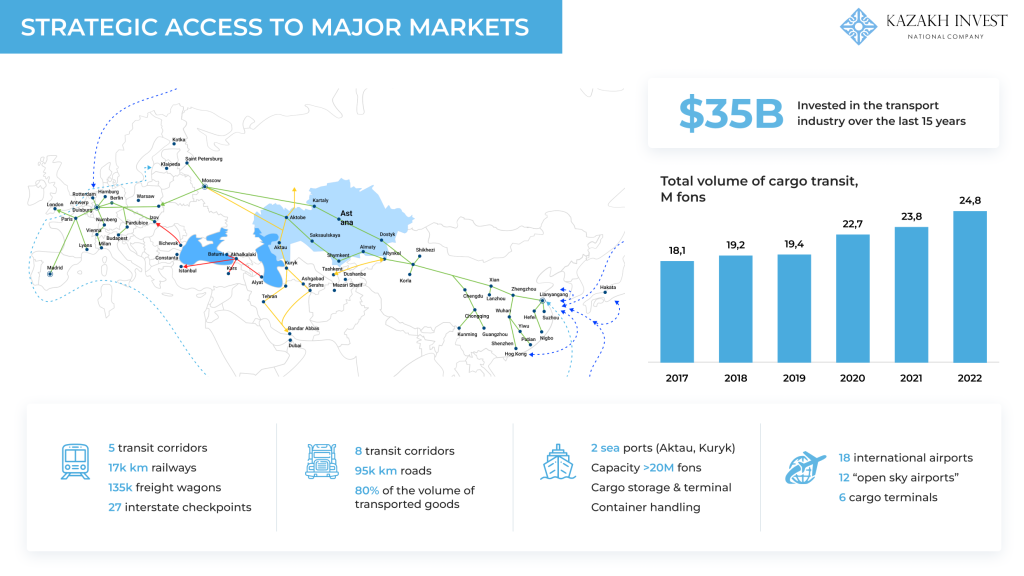 The fertile lands of Kazakhstan present promising opportunities in agribusiness. With vast expanses of arable land and burgeoning demand for agricultural products, American companies can invest in crop cultivation, livestock breeding, and food processing facilities.
Kazakhstan is rich in minerals, including copper, uranium, coal, and rare earth elements. The country's commitment to modernizing its mining sector and improving regulatory frameworks offers US companies a favorable investment environment. Additionally, collaboration in research and development can lead to more efficient and sustainable mining practices.
Along with that, Kazakhstan has a great potential for the development of production of rare earth metals, which are increasingly in demand due to the growth of renewable energy sources and other industries. The demand for rare earth metals is expected to continue growing in the coming years, and Kazakhstan is well positioned to meet this demand given its rich reserves.
Overall, Kazakhstan and the U.S. have the potential to create mutually beneficial partnerships in various sectors. By exploring new areas of cooperation and deepening existing ties, both countries can enhance their competitiveness, promote economic growth, and contribute to regional development.
If you are interested in investing in Kazakhstan, KAZAKH INVEST, the national company for attracting foreign investments, can be your go-to guide.
KAZAKH INVEST is the official investment promotion agency of Kazakhstan that facilitates foreign investments. It provides a range of services to potential investors, including information and support for doing business in the country, assistance with finding partners and identifying investment opportunities, and help with navigating the legal and regulatory environment.
KAZAKH INVEST is dedicated to promoting the country as a top destination for foreign investment. Kazakhstan has a lot to offer investors, and KAZAKH INVEST is working hard to create an attractive and supportive environment for businesses to thrive.
For additional information, please get in touch with Diana Ablyakimova, the Country Manager for the U.S. at KAZAKH INVEST at d.ablyakimova@invest.gov.kz.
You can also visit the official website of the National Company KAZAKH INVEST at https://invest.gov.kz/ for more details.