Almaty has built a new high-tech Japanese plant, which has no analogue in the CIS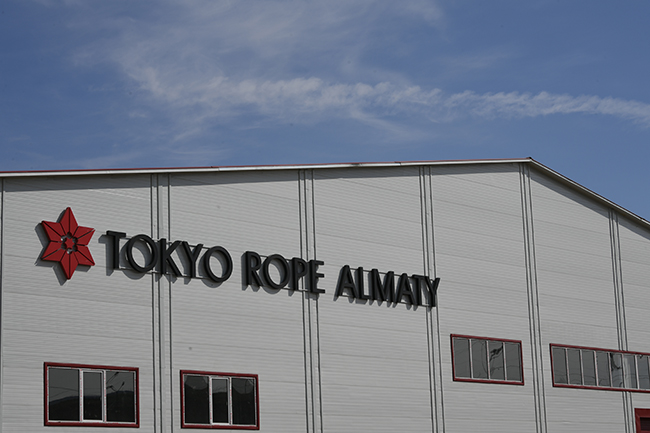 Within the framework of the initiative "50 projects-drivers of Almaty's development " in the city's industrial zone, a technical opening of a new plant for the production of engineering protection systems of the transnational corporation "Tokyo Rope Manufacturing" took place. The enterprise has no analogue in the CIS and is introduced by Japanese investments.
The governor of the city Bauyrzhan Baibek noted that the launch of a high-tech plant is the realization of the instruction of the President of the country Nursultan Nazarbayev to attract foreign investments and create innovative production facilities on the territory of the republic.
The new enterprise has a unique equipment for the production of drill anchors, high-strength metal cables, steel zinc-coated grids for mining and quarrying. The plant's capacity is more than 17 thousand tons of steel products per year.
Chairman of the Board of Directors of Tokyo Rope Manufacturing Shigeto Tanaka noted that Almaty was the starting point for the spread of advanced Japanese technologies throughout the region.
"After the launch of the first phase of the project in 2016, the products of the Tokyo Rope Almaty plant are already being used in the CIS and the Persian Gulf, including the implementation of a major project in Saudi Arabia. The products of the plant localized in Almaty were also used to strengthen the riverbed of the Esentai River, the highway to the Big Almaty Lake, the Medeu-Shymbulak cable car and the Myң zhylky platinum. I am sure that the joint work carried out today will give impetus to the influx of new Japanese investments into Kazakhstan," Shigeto Tanaka said.
The Japanese company was founded over 130 years ago .It is the world leader in the production of steel ropes. In Tokyo Rope they also specialize in the design, manufacture and installation of protective structures against mudflows, avalanches, landslides, rock falls. The ropes of the Japanese company are used in the construction of 12 of the world's 20 largest bridges. Each fourth tire produced in Japan uses Tokyo Rope products. Along with this, the company is known for high-quality ropes for high-speed elevators and products for engineering protection.
"In general, more than 40 large domestic and foreign projects in the spheres of construction, pharmaceutical, chemical, food and light industry are being realized in the industrial zone of Almaty today. In the current year, it is planned to introduce 9 new projects, including the plant for the production of cable and wire products of the Russian company KMK Investment, the Kazakh-Chinese enterprise Asia Steel Pipe Corporation for the production of large diameter welded pipes for the transportation of oil, gas, water and oil products", - Almaty's executive committee's press service added.