Kazakhstan Pavilion Presented at "Annual Investment Meeting" in Dubai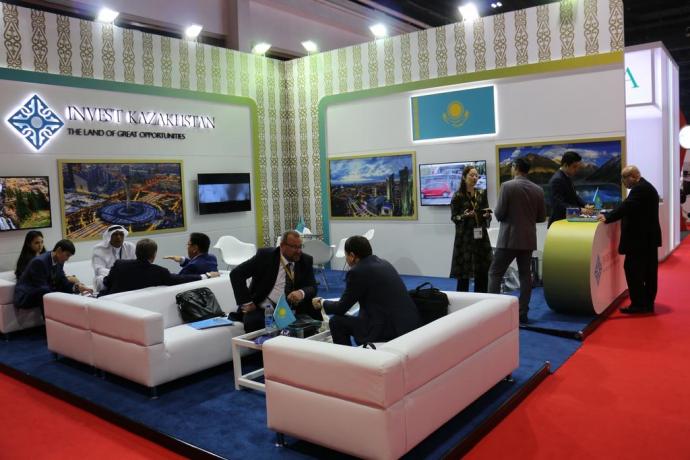 The international conference "Annual Investment Meeting" is held in Dubai World Trade Center from April 9 to 11. National company "Kazakh Invest" presented Kazakhstan pavilion with demonstration of investment opportunities of the country and the possibility of holding business meetings.
Annual Investment Meeting (AIM) is a major annual investment conference, best known in the world as a dialogue platform for the international investment community. The program of the investment conference includes a number of plenary sessions with topics in the context of digitalization, industry 4.0, public-private partnerships and global strategies to attract investment.
"Kazakhstan and the UAE have a very long history of relations. Moreover, we are very glad to meet the Kazakh delegation this year at the event. AIM exhibition management is ready to support the delegation of Kazakhstan so that you can successfully hold meetings. It is a great platform to attract multinational companies to Kazakhstan. We wish you to achieve maximum results from this event", - said the President of "Annual Investment Meeting" Dawood al-Shezawi.
The heads of more than 15 large domestic companies, representatives of state bodies and national companies represent the Kazakh delegation.
In addition, an exhibition of country pavilions with the participation of 141 foreign countries is held on the sidelines of the forum.
The Republic of Kazakhstan is represented by the national exhibition pavilion "Kazakh Invest" with the possibility of bilateral meetings on the territory of the pavilion with the business community of foreign countries in order to attract investment to the country.
"We visited the pavilion of Kazakhstan at the World Trade Center in Dubai, because we heard that the business and market is very developed in Kazakhstan, and we would like to have a business in your country. Now we are looking for business partners around the world, especially in the Middle East, Italy, Kazakhstan and Russia. We are already developing in Dubai, and we need to open a business with new partners", - said the visitor of the Kazakhstan pavilion, the representative of "AT WORLD Holding" Mahmoud Shalash.
"I have always been interested in the Republic of Kazakhstan. There are a lot of Ukrainian business, a lot of Ukrainians work in Kazakhstan, that is, quite warm relations, so I came to the pavilion to learn more about the processes of doing business in Kazakhstan, and perhaps we will find common ground", - said the head of the Ukrainian company "Task Force" Stanislav Horbachevsky.
The work of the pavilion of Kazakhstan, organized by "Kazakh Invest", will continue today on the second day of the "Annual Investment Meeting" in Dubai. In addition, today it is planned to present investment opportunities of Kazakhstan within the session of AIM, as well as to hold a number of bilateral meetings of the "Kazakh Invest" management with representatives of the largest Arab companies.