Investment opportunities of Kazakhstan presented in Istanbul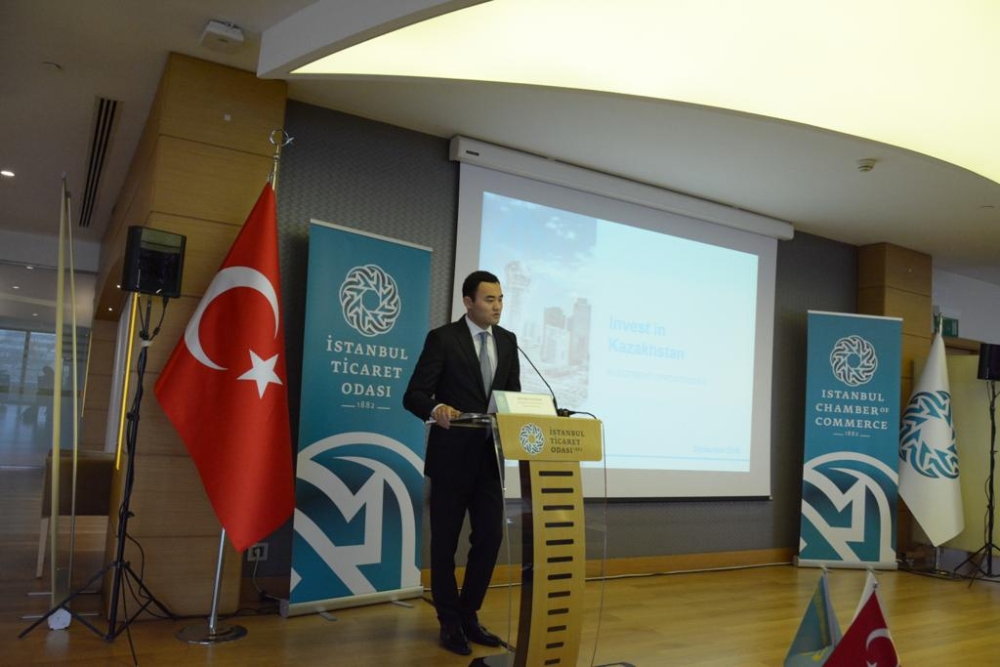 On September 25, a business seminar was held in Istanbul on the investment opportunities of Kazakhstan. 60 Turkish companies took part at the event, organized by Kazakh Invest NC JSC and the Istanbul Chamber of Commerce. As a result of the seminar, representatives of Kazakh Invest NC JSC handed over teasers of Kazakhstan investment projects to the largest Turkish Chamber of Commerce, which includes more than 200 leading companies.
Speaking with a presentation on the investment climate and foreign economic policy of the Republic of Kazakhstan, Deputy Chairman of the Board of Kazakh Invest NC JSC Rustam Isatayev noted that Turkey has traditionally been among the ten trade partners of Kazakhstan. Today, Kazakhstan's investment cooperation with foreign investors is intensively developing. Over the past 12 years, Kazakhstan has attracted direct foreign investment of $ 2.4 billion, while Kazakhstan people have invested about $ 1 billion in the Turkish economy.
Participants of the seminar were provided with detailed information on business opportunities in Kazakhstan, legislative support and competitive advantages created for investors, as well as key indicators of the current socio-economic development of Kazakhstan. Representatives of the Turkish business sphere, in turn, made a presentation on the experience of doing business in Kazakhstan and spoke positively about the country's investment climate.
Turkish businessmen showed increased interest in the event. In particular, following the results of the seminar, a number of questions were raised regarding attracting foreign direct investment in selected leading sectors of the economy.
According to the participants, the seminar was an effective platform for strengthening business contacts between Kazakhstan and Turkey, as well as discussing prospects for mutually beneficial cooperation between the business community of the two countries.

The Istanbul Chamber of Commerce (ITO) is one of the largest chambers of commerce and industry in the world with a registered membership of 350,000 people. The main activity of ITO is the solution of structural and topical business problems, the development of Turkey's international competitiveness, it works to create new markets abroad, identifies obstacles to business development and takes measures to eliminate them.