MBVA Indian Association discussed opportunities of cooperation with KAZAKH INVEST NC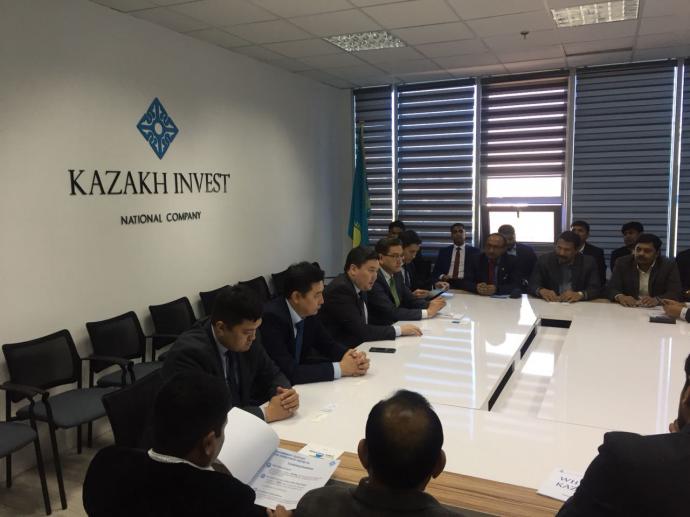 On September 27, Astana hosted a meeting with MBVA Indian Association. During the meeting, the sides discussed issues of further cooperation in the field of construction.
During the dialogue representatives of MBVA told about the association founded in 2001 by Mr. Shri. S. R. Kulkarni. It is a consortium of Maratha builders working to create an expanded support system for members, to address the development challenges of the industry in Pune and India in general.
The meeting was also attended by representatives of Astana APC, Technopolis JSC, managing Director of KAZAKH INVEST NC JSC Jandos Nurlanov, regional Director for Astana Alzhan Braliyev.
Astana APC was presented to the members of the Association the Calatrava project, which will be built on the principle of a covered pedestrian area, not as a classic Mall. There will be elements of street paving, the feeling of the open sky, street acoustics. It will be open to the public 24 hours a day and will remain part of the urban infrastructure. Also, during the meeting, issues of housing construction in Astana and the possibility of "Astana – the New City" special economic zone were discussed.
Zhandos Nurlanov Managing Director of Kazakh Invest NC JSC told about the Company's activities, created preferences for investors and expressed readiness to provide all possible assistance to the Indian Association.
Reference: MBVA is an Indian Association with more than 3,000 members. All Marathi high-profile builders from Pune are members of the organization. Members of the Association implemented projects in the UAE (Bungalow Scheme in Jumeirah), as well as many projects in AUSTRALIA.
The annual turnover of individual members varies from 20 to 200 million US dollars. The collective turnover of the members of the Association is close to 2 billion US dollars.