Further measures on attracting investment were discussed in Karaganda region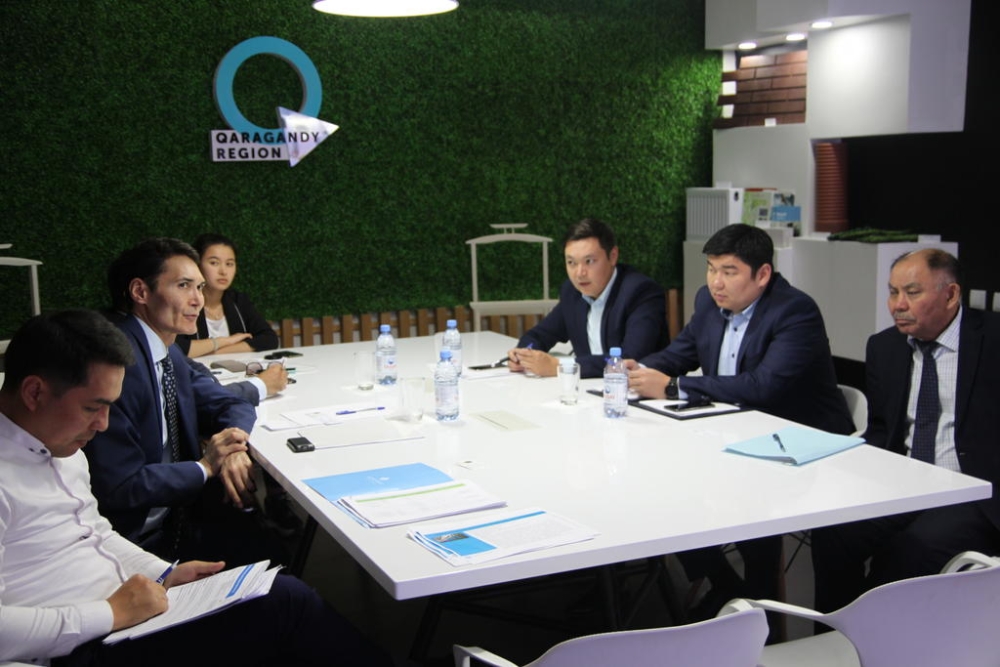 Karaganda region is one of Kazakhstan's leading regions in terms of attracting investments. Thus, during the first half of the year, 2 projects worth $ 139 million in the fields of metallurgy and renewable energy were launched with support of Kazakh Invest. Currently, 4 projects worth $438 million are at the construction and installation phases. Of these, 2 projects worth $ 133 million are planned to be commissioned this year. These are a plant for production of industrial gases by Linde Group (Germany) and renewable energy project by Solarnet (Germany). The projects will create about 1800 jobs.
In line with the instructions given by the Head of State Kassym-Zhomart Tokayev on attracting investments, the CEO of Kazakh Invest Baurzhan Sartbayev paid a working visit to Karaganda region. During the visit, he discussed issues of interaction with investors on current and future projects, promotion of investment opportunities and enhancement of the region's investment attractiveness.
Baurzhan Sartbayev visited the plant for production of industrial gases by Linde Group and a number of enterprises under the Special Economic Zone "Saryarka", such as the plant for production of industrial explosives "Berkut" and the plant for production of ball valves "Bömer Armatura". The meetings covered a range of issues, including required assistance in terms of budget estimates approval, modernization of production, and provision of infrastructure in accordance with the programme "Business roadmap - 2020".
The Head of Kazakh Invest also met with the authorities of Karaganda region. To date, the region is one of the leaders in attracting investments. In particular, according to the Deputy Governor of Karaganda region Almas Aydarov, the region recorded a 25% increase in fixed capital investments last year. By the end of the year, the goal has been set to attract 550 billion tenge of investments. "From the beginning of the year, 9 new investment projects worth 280 billion tenge in the fields of renewable energy, chemistry, manufacturing, metallurgy and agriculture are being implemented. Manufacturing and mining are our priority sectors. We also focus on the logistics and food industries".
Taking into account the instructions of the Head of State on investment attraction in agriculture for the next three years, Kazakh Invest has been intensifying work in this direction. The most promising sectors include production of meat and dairy products, potato starch and confectionery.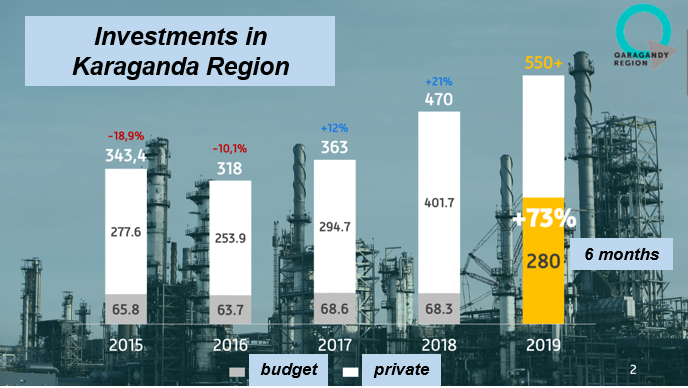 "An entire cluster can be developed within these areas. For instance, by-products of potato starch production can be excellent feed for livestock. As such, it is advisable to establish a feedlot or dairy farm near the plant. Additionally, feed crops are ideal for crop rotation for potato growing. Another niche for attracting investors is the production of poultry meat. There is a positive growth in the number of birds in the region (as of January 2019 - 3.9 million heads). Demand for poultry increases significantly every year. The process becomes less expensive and more profitable with introduction of modern technological developments," – noted the Head of Kazakh Invest during the meeting with the representatives of Karaganda region.
To date, Kazakh Invest project pipeline includes 185 investment projects and initiatives worth $49.4 billion and creating over 45 thousand jobs. Of these, 4 projects worth $217 million have been implemented, 82 projects worth $15.2 billion are currently being implemented, and 99 projects worth $34 billion are at the development phase. Of these, 15 investment projects worth $2.5 billion are located in Karaganda region.
Kazakh Invest is working on 6 potential projects worth $1.8 billion in the field of mining and metallurgy and machinery building. The company "packaged" 73 investment projects in accordance with the international standards (business plan, financial model and market research). Of these, 7 projects in the fields of agriculture, mining and metallurgy are located in Karaganda region.
According to Baurzhan Sartbayev, by the end of the year, Kazakh Invest plans to "package" additional number of projects in mining and metallurgy, including 2 projects for construction of plants for extraction and production of gold and porphyry copper ores. As a result of joint efforts of the authorities of Karaganda region and Kazakh Invest, a number of project initiators are currently having active negotiations with potential foreign investors.

Kazakh Invest, acting as a "single negotiator" on behalf of the Government of the country, provides a full range of services for implementation of investment projects, including business registration, obtaining various permits and approvals necessary for conducting investment activities in the Republic of Kazakhstan.