Another 32 billion tenge of investments will be attracted to the WKO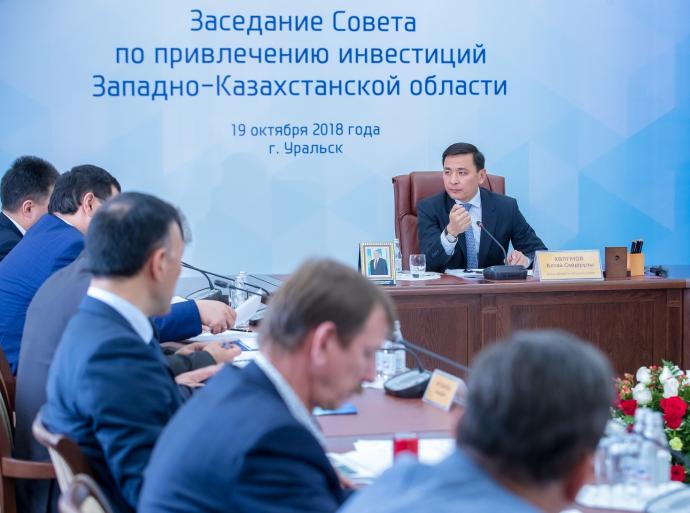 Investment projects with a total value of over 32 billion tenge were reviewed at Regional Council meeting on attracting investments in Uralsk on October 19.
During the meeting, Altai Kulginov, akim of the West Kazakhstan oblast noted that the submitted projects are important for the region. Akimat will provide full support to investors throughout the implementation of projects in the provision of land, investment subsidies, customs duties, and tax obligations. The investors will be provided with ten-year benefits for exemption from land and property taxation, and a return of 20% of investment deposits. For businessmen, this is quite tangible support from the state.
It should be noted that all projects were supported by the Kazakh Invest National Company JSC. Four of the presented projects are from the agricultural sector, three of them are in the field of animal breeding and one project is on the greenhouse complex. It is planned to build an open feedlot for the cattle for 3,000 cattle stalls in Syrymsky and Zelenovsky areas. The project cost is equal to 1.2 billion tenge, of which 70% are borrowed funds and 30% of own funds of Agroproduct LTD company.
Central Feedlot LLP plans to create a fodder base of 5,000 hectares for the feed complex in Yanaykino village of Zelenovsky district. It is planned to expand the existing production capacity from 4,000 to 10,000 heads in the first year of the project.
WorldGreenCompany LLP presented a project for the construction of a greenhouse complex. The amount of investment is 13 billion tenge. The design capacity is 4,400 tons of cucumbers and 3,450 tons of tomatoes. The supplier of the turnkey greenhouse complex is a Dutch company, a leader in the industrial cultivation of agricultural products.
Two more investment projects relate to the development of the tourism cluster in the region. This is the construction of a 108-room hotel complex in the town of Aksai of the Burlinsky district, according to the franchise of the international hotel corporation Holiday Inn Intercontinental Hotel Group - (4 stars). The cost of the project, which is invested by a local company - Serik DCC LLP, is more than 3.6 billion tenge, 85% of which are the investor's own funds. The project of modernization of the Park of culture and rest of Uralsk was presented at the meeting. The project cost is 570 million tenge. The Park will also install a Ferris wheel with a height of 45 meters.