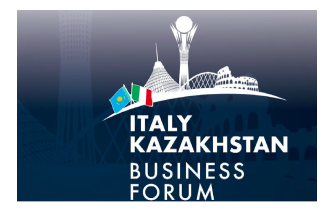 BUSINESS FORUM ITALY-KAZAKHSTAN
Online
KAZAKH INVEST invites you to take part in the virtual business forum Italy-Kazakhstan. The event organized by the Ministry of Foreign Affairs and International Cooperation of the Italian Republic, the Ministry of Foreign Affairs of the Republic of Kazakhstan, the General Confederation of Italian Industry Confindustria, the Italian Embassy in the Republic of Kazakhstan, the ICE Agency in cooperation with national company KAZAKH INVEST and the National Chamber of Entrepreneurs of the Republic of Kazakhstan "Atameken".
The forum is aimed at deepening mutual understanding of the industrial realities of both countries, encouraging cooperation and bilateral trade and economic partnerships with thematic emphasis on the green economy and renewable energy sectors, agribusiness, as well as mechanical engineering and manufacturing.
To register for the event, you must fill out a form at the following link https://go.confindustria.it/#currentinitiatives. All attendees who have registered and completed a profile in the Member Profile Editor section of the drop-down menu in the upper left corner will be able to participate in B2B meetings after logging into the event page.
Date: June 9, 2021
Time: 2:00 PM (Nur-Sultan time)
10:00 AM (Rome time)