Regional Council meeting for attracting investments and improving the investment climate Of the West Kazakhstan oblast was held in Uralsk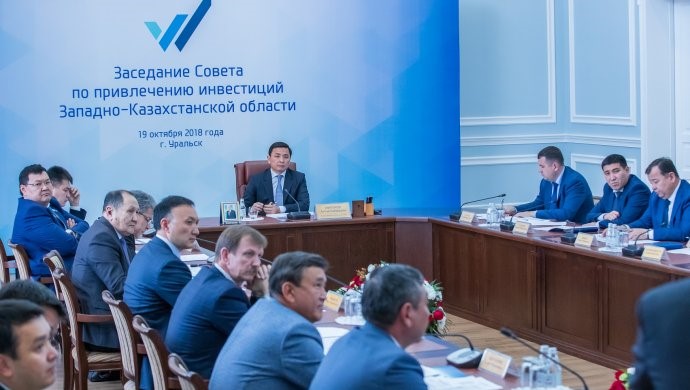 On October 19, a meeting of the Regional Council on attracting investments and improving the investment climate was held in Uralsk
Of the West Kazakhstan oblast. Birzhan Kaneshev, the Deputy Chairman of the Board of Kazakh Invest NC JSC and heads of industrial enterprises of the oblast took part in the Council meeting.
According to the agenda of the Regional Council, issues of attracting potential investors, the investment potential of the Taskalinsky district and the implementation of 3 investment projects were considered.
As part of the implementation of Digital Kazakhstan President's program, an investment portal of the West Kazakhstan oblast is being developed. The main purpose of the portal is to attract investment in the region, the disclosure of the investment potential of the region, and the provision of information support to investors. This portal will be a kind of bridge between the state and business, a guide for both domestic and foreign investors.
It should be noted that foreign investments are actively attracted to the region. Following the results of 9 months of the current year, the volume of investments in the fixed capital of the West Kazakhstan oblast amounted to 275 billion tenge and increased by 4.5%. Of these, the volume of investment in industry amounted to 177 billion tenge, and in the manufacturing industry it amounted to 12 billion tenge. The total share of attracted investments in the fixed capital of the oblast was 60.4%. In terms of the share of foreign investments, our oblast ranks № 1 in the Republic.