New Kazakh-Turkish projects discussed during investment week in Istanbul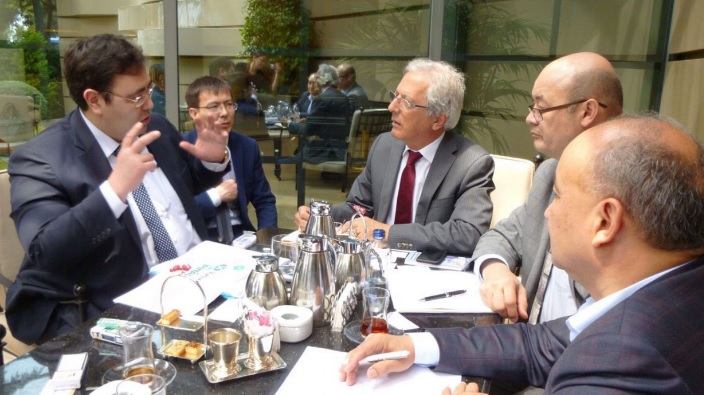 In Istanbul, on May 7-12 within the framework of the investment week, with the assistance of the Embassy of Kazakhstan in Turkey and Kazakh Invest NC, negotiations are in progress with the largest Turkish companies on cooperation in the spheres of industry, construction, medicine, and textile production. The meetings are organized in order to intensify economic cooperation between the two countries.
Under the leadership of the Vice Minister for Investment and Development, Arystan Kabikenov, the Kazakh delegation included representatives of the business community, state bodies, national companies, etc.
During the week, the delegation of Kazakhstan met with the leadership of the largest industrial groups in Turkey, including Yildirim Holding and Calik Holding, which include such companies as Calik Enerji and Lidya Madencilik.
During the meeting, representatives of Calik Holding noted their readiness to implement projects on the territory of Kazakhstan. Therefore, at the first stage, the company intends to begin construction of a solar power plant with a capacity of 50 MW and consider the possibility of further expansion of investments in the implementation of projects on renewable energy sources.
Also during the meeting, issues of cooperation in the mining, metallurgical and energy sectors were touched upon.
The management of Yildirim Holding also expressed their interest in the implementation of projects in the mining and metallurgical complex in Kazakhstan. An agreement was reached between the holding company and Qazgeology JSC on the establishment of a joint venture for geological prospecting for searching for solid minerals.
In total, the parties are currently working on five projects. Also, in the summer of this year the holding plans to start geological exploration in Zhambyl region.
Members of the delegation also met with Eczacıbaşı Holding, a producer of medicines and consumer goods, and Bak-Ay Tekstil, one of the leading companies in the field of yarn and knitting parameters, who also showed interest in setting up factories in Kazakhstan.
For reference:
Calik Holding is one of the largest Turkish financial and industrial groups, operating in the energy, construction, finance, mining and metallurgical, textile industries, and telecommunications.
Lidya Madencilik owns 20% of the Chopler Gold mine, which is Turkey's second largest gold mine and 50% of the exploration portfolio together with Alacer Gold. The first gold mining in the mine was completed in December 2010, and to date about 1.2 million ounces of gold have been produced.
Yildirim Holding is the fourth largest player in the global chrome industry, Turkey's largest producer of ammonia and nitric acid calcined fertilizer. The company operates in 11 sectors with an annual turnover of $2.2 billion.