Kazakhstan-Japan Business Forum is being held in Astana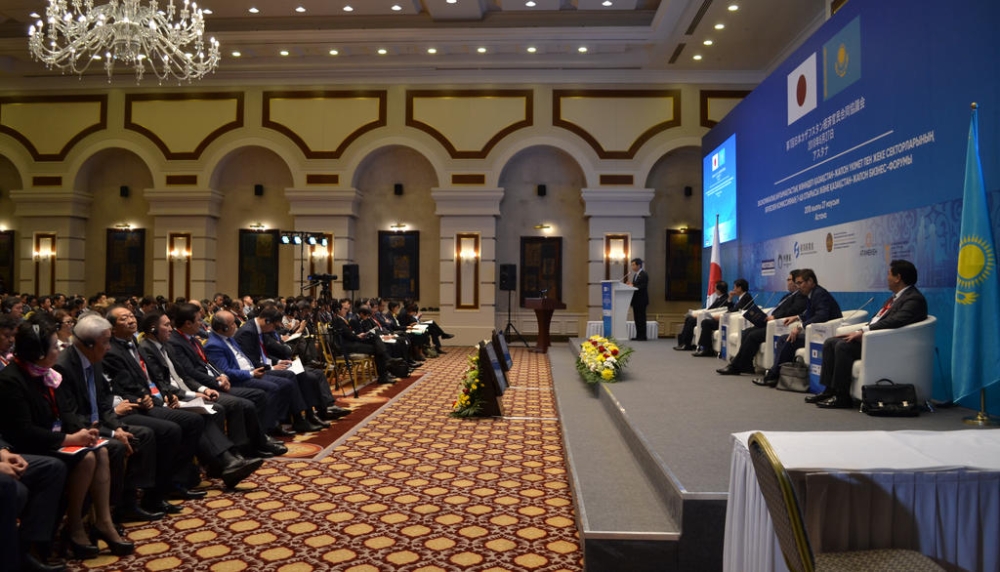 Today, Kazakh-Japanese Business Forum and the 7th meeting of the Joint Commission of the Government and Private Sector on Economic Cooperation is being held with the assistance of the Embassy of Kazakhstan in Japan and "Kazakh Invest". Within the framework of the forum, cooperation agreements were signed with the largest companies in Japan.
At the opening of the forum, Vice-Minister for Investment and Development of Kazakhstan Arystan Kabikenov emphasized that Japan is one of Kazakhstan's key strategic partners in East Asia. Between 2015 and 2015, the two countries have an Agreement on the Promotion and Mutual Protection of Investments.
"Since the first years of independence, Kazakhstan has relied on ensuring economic growth through the creation of favorable conditions for foreign investors. Japan is one of the largest investors in Kazakhstan. During the period from 2005 to 2017, gross inflow of direct investments from Japan to Kazakhstan amounted to more than USD 5 billion", - A. Kabikenov noted, inviting Japanese companies to participate in the program of privatization of the Republic of Kazakhstan.
In turn, Vice-Minister for International Affairs of the Ministry of Economy, Trade and Industry of Japan Tadao Yanase stressed that Japanese companies are interested in investing in Kazakhstan.
Deputy Chairman of the Japan-Kazakhstan Economic Commission, ITOCHU Corporation Adviser, Mr. Toshiyuki Kosugi emphasized that their company imports industrial equipment, oilfield chemicals and fibers into Kazakhstan, but now the investment environment in Kazakhstan is undergoing significant changes. "And now we need to implement new initiatives, which is in tune with our development strategy. Last year, the Government of Kazakhstan adopted the Digital Kazakhstan program, and I would like to see further development of specific bilateral relations in many directions", - he said.
A number of memorandums on cooperation were signed at the forum. Therefore, the Сhairman of the board of Kazakh Invest Saparbek Tuyakbayev and the Vice-Chairman of Marubeni Corporation Yamazoe Shigeru signed a memorandum of understanding on common cooperation on the development of urban transport in Almaty.
"At present, in Almaty within the framework of the public-private partnership scheme, we are working on the implementation of the project to build a light rail system. In addition to solving the problems related to construction, operation, maintenance and financing, we are working to create a digital infrastructure, considering LRT as an integral part of urban planning, and thus strive to provide comfortable living conditions for citizens", - Yamazoe Shigeru said.
In addition, a memorandum of understanding and cooperation was signed for the implementation of a pilot project in heat and water supply systems between JSC KazCenter for Housing and Utilities, Mitsui & Co LTD and Japan system Planing LTD, a memorandum on cooperation in nuclear energy between Kazakhstan Nuclear Power Plants and The Japan Atomic Power Company, Marubeni Utility Services Ltd.
Within the framework of the forum, there was also a discussion at thematic panel sessions "Cooperation in the field of information technologies and digital sphere – the State program "Digital Kazakhstan", "Cooperation in the field of development and development of mineral deposits", "Cooperation in the field of energy and preservation of ecology", "New directions in business between Kazakhstan and Japan".
For reference: For the period from 2005 to 2017, gross inflow of direct investments from Japan to Kazakhstan amounted to more than USD 5,725 billion. As of May 1, 2018, 77 juridical entities were registered in Kazakhstan, branches and representative offices with Japanese participation.