Turkish investors are in negotiations on the implementation of two projects in the Zhambyl oblast and Aktobe oblast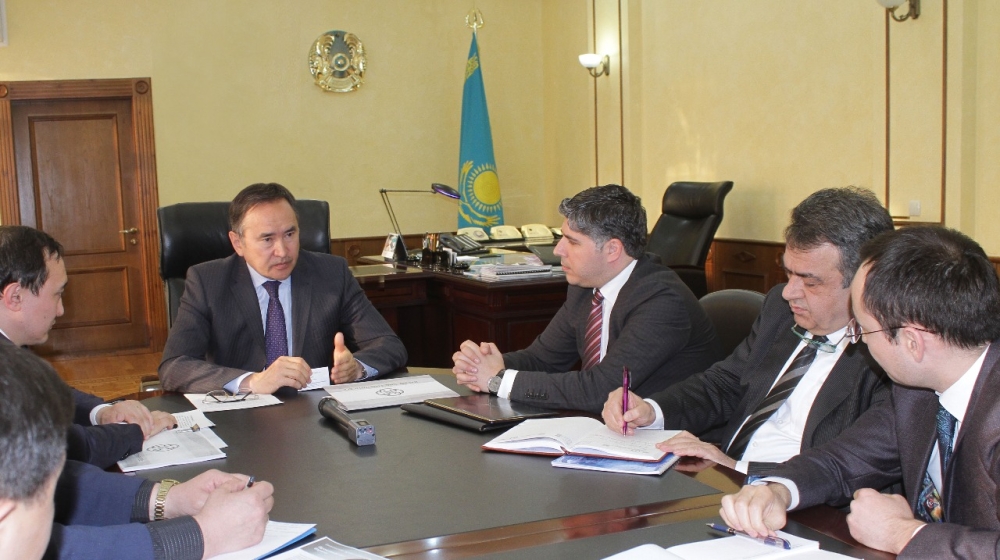 With the assistance of Kazakh Invest, meetings of representatives of Dal Holding Investment Co. with Akimats of Aktobe oblast and Zhambyl oblast were organized. During the meeting, Turkish investors expressed interest in the implementation of two projects in the field of agro-industrial and mining-metallurgical complexes.
Representatives of the Turkish company Dal Holding Investment CO met with the Akim of the Zhambyl oblast Askar Myrzakhmetov in Taraz.
During the meeting, the financial director, member of the advisory board "Dal Holding Investment CO." Demirjan Kuse expressed his interest in participating in the implementation of the Zhambyl oblast project for the construction of ore mining and processing enterprise for the production of barite concentrate at a cost of $ 54 million. Thus, the possibility of a full production cycle from extraction to enrichment of barite ores to 75,000 tons per year was discussed. Following the meeting, the leadership of the region supported the intentions of investors.
In Aktobe the company management «Dal» met with the Deputy Akim of Aktobe oblast Serik Tulenbergenov. The parties discussed the prospects for a phased implementation of the project on the construction of a greenhouse complex in the Aktobe oblast, providing it with electricity, heat and carbon dioxide from gas power stations. Thus, the planned total investment for this project is 650 million USD.
During the meeting, the management of the akimat confirmed interest in the implementation of this project and readiness of all-round support of investors. Akimat of Aktobe oblast is currently considering suitable options for land plots with an area of 200 hectares for the construction of a greenhouse.
The Dal Holding Investment CO company was founded in 1985, it is one of the first 5 companies in the world in technology, development and supply of critical equipment. It works in the cement, construction, energy, chemical and mineral resources field. The company is the first automation company in Turkey.