Pavlodar SEZ is recognized as one of the best SEZ in the world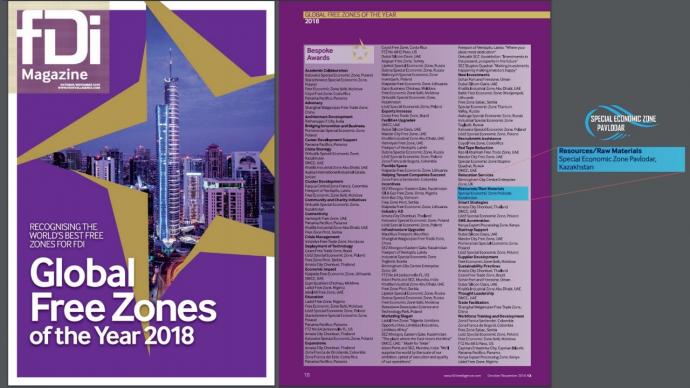 Pavlodar special economic zone became the winner in the nomination "The best resource and raw material base of 2018" (Best resources & raw materials base of 2018) according to fDi Magazine, the authoritative British magazine.
fDi Magazine (Foreign Direct Investment) is a modern overview of global investment activity in the context of individual sectors of the economy and forms its own rating of economic zones around the world. The edition, which has been published for more than 10 years at intervals of once every two months and with a circulation of 15,000 copies, is a subdivision of Financial Times, well-known international publication.
"The award of nomination on behalf of fDi Magazine determines the status of Pavlodar special economic zone as an international investment platform, attractive for business development, which has high-quality and affordable raw materials for almost any business and production," says Aibek Tursyngaliyev, the head of SEZ.
- A positive fDi rating is not just a line on the printed page, because the magazine's rating is recognized by the best experts and the global business elite.
Currently, about 30 kinds of products are exported to a dozen countries of the world on the territory of Pavlodar SEZ. In turn, the manufactured products of the SEZ have already proven themselves abroad, being distinguished by the ratio of high quality and favorable prices for the final consumer.
Even today, an organized industrial cooperation between the participants of the SEZ, exemption from the main types of taxes (VAT, CIT, property and land taxes) and the absence of customs duties are of great interest among foreign businessmen who want to occupy a free production niche for the business organization.
"The status of the Best resource base of the year" is one of the main and very important nominations of the fDi rating: this very advantage is a major in the race for the investor," - Aibek Tursyngaliyev summed up.