With the assistance of kazakh invest, chinese companies are launching high-tech production in kazakhstan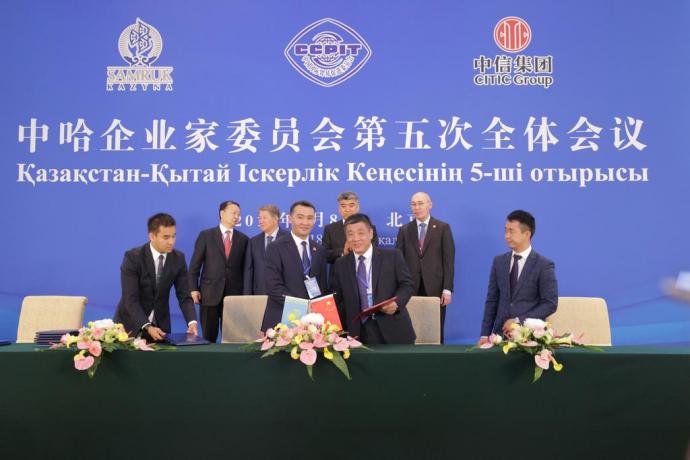 Today in Beijing, during the meeting of the Kazakh-Chinese Business Council, 40 economic documents were signed for a total of about 13 billion dollars, 15 of them with the assistance of Kazakh Invest. According to these agreements, new high-tech production in the sector of engineering, biotechnology, etc. are planned to be launched on the territory of Kazakhstan.
"As part of the visit of the Head of State to the People's Republic of China, the Kazakhstan-China Business Council, organized by Samruk-Kazyna, is being held today. During the Council, 15 projects were signed with the assistance of Kazakh Invest. In general, these are high-tech, innovative production facilities", - said Saparbek Tuyakbayev, Chairman of Kazakh Invest.
During the Kazakh-Chinese Business Council, Saparbek Tuyakbayev signed in cooperation with the vice president of CITIC Construction Co. Ltd. Ginchiang Young the Agreement on the production of lubricants of high class, gasoline, diesel, mineral fuel and liquefied hydrocarbon gases.
In addition, on the part of Kazakh Invest, agreements were signed with Hebei Hua Tong Cable on cooperation for the implementation of the cable production project in the Karaganda oblast, with Pharma Beijing-Ilin the agreement on cooperation in implementing projects to create a center for Chinese medicine and cultivation medicinal herbs, etc.
In addition, today, with the assistance of Kazakh Invest, documents have been signed on the implementation of the project for the development of the biochemical cluster in Kazakhstan between KazAzot, Cathay Industrial Biotech, Ltd. and CITIC Construction Co., Ltd., the roadmap for further development of the automobile cluster between Allure Group of Companies JSC, CMC Chinese company and Baiterek Holding, the memorandum on cooperation in organizing assembly production of tractors in Kazakhstan between Agromash Holding KZ JSC and YTO, as well as the cooperation agreement for the implementation of projects in the field of renewal trolled energy (solar and hydro) between Kazakh Invest, ECM Technologies French company and CEEC - NWPCInternational Chinese company.