Prime ministers of Kazakhstan and Hungary Askar Mamin and Viktor Orban discuss prospects for increasing investment cooperation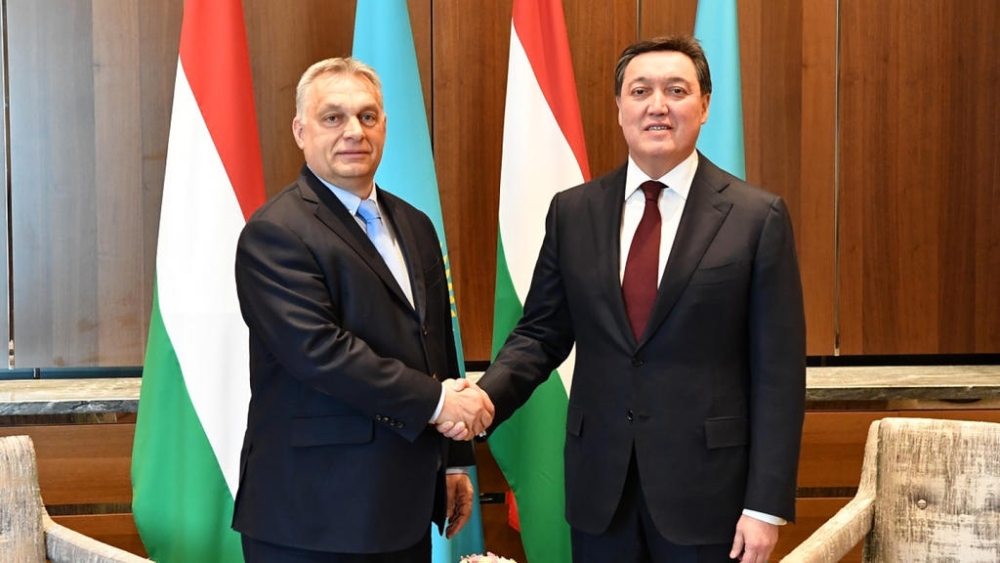 April 23, 2019, the Prime Minister of Kazakhstan Askar Mamin held a meeting with Prime Minister of Hungary Viktor Orban.

The issues of developing trade and economic, investment cooperation further, increasing the volume of bilateral trade were discussed at the meeting. Prospects for deepening mutually beneficial cooperation in traditional and alternative energy, nuclear industry and science, defense, aviation, agriculture, especially exports of Kazakhstan's environmentally friendly products, were considered.
In the opinion of the two prime ministers, the current volume of bilateral trade shows that there is a great potential for cooperation.
"We consider Kazakhstan a country that is achieving tremendous economic results. We are very pleased with our bilateral contacts," said Hungarian Prime Minister Viktor Orban, expressing the hope that working together, the countries will increase the volume, expand the structure of cooperation and implement large-scale projects in the future. "Hungary is still very open in relation to Kazakhstan and is looking for opportunities for economic cooperation."
The Prime Minister Mamin noted that the built trusting relations between Kazakhstan and Hungary create favorable conditions for the development of economic interaction.
"Hungary is an important trade and economic partner of Kazakhstan. We welcome the further expansion of cooperation between our countries," said Mamin, inviting Hungarian businessmen to take an active part in the implementation of investment projects in Kazakhstan and jointly look for new forms for developing relations.
The government heads of Kazakhstan and Hungary confirmed their intention to increase mutual trade and investment cooperation between the two countries. The upcoming meeting of the Kazakh-Hungarian Strategic Council, which will be held April 29, 2019, in the city of Nur-Sultan with the participation of 100 Hungarian businessmen, will determine the new tools for further increasing the volume and expanding the structure of trade.