Kazakhstan Prime Minister and Armenia President discussed economic coop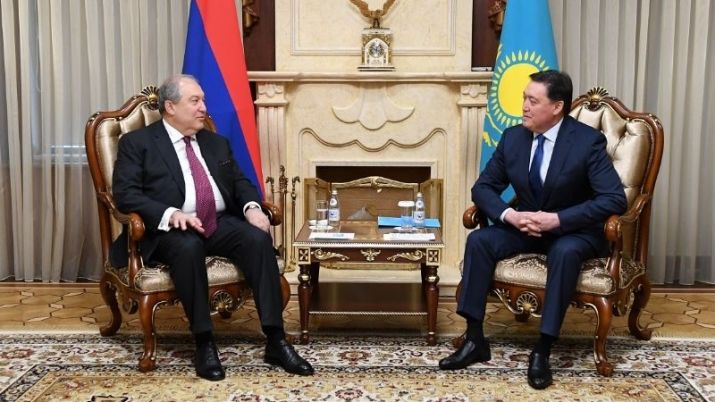 The Prime Minister of Kazakhstan, Askar Mamin, held talks with the President of Armenia, Armen Sarkisian, who is in Nur-Sultan for XII Astana Economic Forum.

As the press service of the Prime Minister of Kazakhstan reports, during the conversation, topical issues of Kazakh-Armenian economic relations, prospects for expanding mutually beneficial cooperation, including in the framework of the Eurasian Economic Union, were mulled.

Analysis of the countries' markets showed the presence of potential for further increase in mutual deliveries and trade in the fields of the chemical industry, engineering, and agriculture.

Armenian President Armen Sarkisian said that the interest in deepening bilateral relations is prompted by digitalization in the development of artificial intelligence, energy, logistics, aviation, space industry, agro-industrial complex, environmental protection, education, tourism. He expressed interest in development of a full-fledged format of economic relations, increase of commodity turnover and investment cooperation.
Source: kazpravda.kz