World experience of free economic zones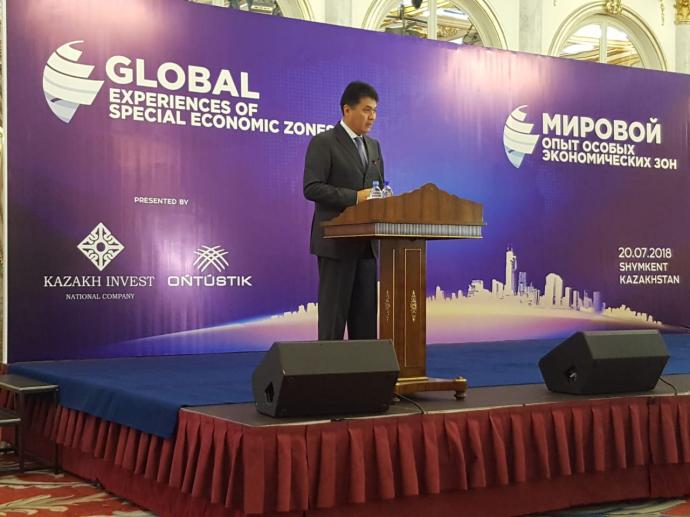 Today the conference on the issue "World experience of free economic zones" with participation of Birzhan Kaneshev, the Deputy Chairman of the Board of NC KAZAKH INVEST JSC, the foreign speakers such as CEO, Investment Consulting Associates, CEO, World Free Zones Organization, the delegations from the Republic of Azerbaijan, the Republic of Uzbekistan, Kyrgyzstan and Tajikistan is taking place in Shymkent.
The organizers of the event were Management Company of FEZ Ontustyk JSC and NC KAZAKH INVEST JSC.
The foreign partners and guests of the event were acquainted with the special conditions of FEZ residents, successful implemented projects were presented to them and development experience and further plans were shared with them during the conference.
In the welcome speech Birzhan Kaneshev, the Deputy Chairman of KAZAKH INVEST spoke about the key tasks and objectives of the event.
"Today's event is a platform for direct negotiations, both from the management company FEZ Ontustyk, residents of FEZ, authorized state bodies, and from potential domestic and foreign investors, which in turn will allow to continue improving the activities of free economic zones in the country", - B.Kaneshev has noted.
The topical issues of attracting foreign direct investment, measures of state support, recent trends in FDI and effective ways of developing free economic zones and industrial zones were discussed during the event.
In addition, within the framework of the forum, a round table was held to discuss the draft law and the problematic issues of the development of FEZ, the issues of self-sufficiency of the management companies of FEZ were discussed, taking into account the positive international experience.
It should be mentioned that 11 free economic zones were created in the Republic of Kazakhstan in order to activate the accelerated development of the regions, attract investment, technology, create highly efficient and competitive industries. For the purposes of cluster development of regions, FEZs have a different sectoral focus. For example, FEZ Ontustyk specializes in the textile industry and chemistry, petrochemistry, FEZ PIT on information technologies, FEZ Pavlodar on chemistry and petrochemistry, FEZ Saryarka on metallurgy and heavy engineering.
This event will serve as a dialogue platform for mutually beneficial cooperation and strengthening of business relations between expert organizations, state bodies, FEZ and IZ management bodies.