Conference on сooperation within the framework of the "One Belt, One Road" initiative in the city of Changzhou Jiangsu province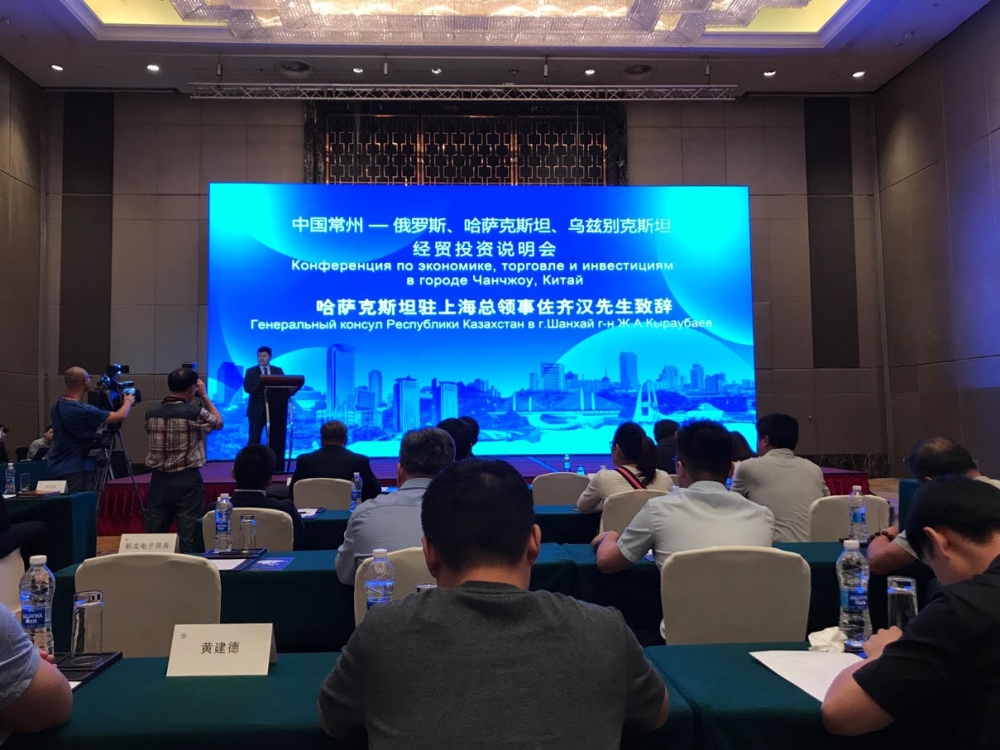 September 28, 2018. Kuanysh Amantai, general representative of Kazakh Invest JSC in P. R. China took part in the event on promotion of trade and economic and investment cooperation of enterprises of Changzhou with countries located along the "One Belt, One Road" initiative. The event was organized by the Government of Changzhou, Jiangsu Province with the support of the Consulate General of the Republic of Kazakhstan, as well as the Consulate General of the Republic of Uzbekistan and the Russian Federation in Shanghai.
During the event, the Representative Office of Kazakh Invest JSC in P. R. China presented the investment climate of the Republic of Kazakhstan, priority sectors of the economy of the Republic of Kazakhstan, privileges and preferences for foreign investors, investment cooperation between the RK and the PRC for the enterprises of Changzhou and Jiangsu Province.
The event was attended by representatives of such companies of the region as: Trina Solar (one of the world's largest manufacturers of solar panels), Jiangsu Zhihengda Investment Group, Dongfeng Agricultural Machinery Group (one of China's largest producers of agricultural machinery), Jinsheng Group (one of China's largest textile companies), Restar Solar (solar energy), Changfa Group (agricultural equipment, components for refrigeration equipment and air conditioners), etc.
About 60 Chinese companies took part in the event.
At the end of the event, the meeting was held with the mayor of Changzhou, Din Chun, together with the Consul General in the city of Shanghai, Zh. Kyraubaev. The prospects of establishing cooperation between the Republic of Kazakhstan and the leading companies of Changzhou were discussed. During the meeting, Kazakhstan party proposed to organize a visit of the leading enterprises of Changzhou to the Republic of Kazakhstan to familiarize with the business climate and establish contacts with Kazakhstan enterprises.
The city of Changzhou is one of the most developed cities in Jiangsu Province. The population is about 5 million. In 2017 The city's GDP was 668 billion yuan (about 98 billion dollars), GDP per capita - 20 thousand yuan (about 2.9 thousand dollars). The most developed branches of industry are machine building (production of special and agricultural machinery, robotics, production of equipment for electric power, production of trains and wagons), solar energy (production of solar panels and components), light industry (furniture and building materials), agriculture and the food industry.
The city actively cooperates with foreign countries. Joint industrial, technological and innovative parks have been established with such countries as Germany, Switzerland, and Israel. The city has 3,800 enterprises with foreign capital, covering more than 107 countries and regions, the volume of foreign investment is 33.2 billion dollars. Of the world's 500 largest companies, 65 companies have implemented 110 projects in Changzhou, including: BOSCH, ABB, Fujitsu, Itochu, Hitachi, Komatsu, Kawasaki, Marubeni, Suzuki, Toshiba, Toyota, Total, GE, Siemens, Bridgestone, Goodyear, AGCO, TyssenGroup and others.