KGIR-2019: Samruk-Kazyna named ways to take national companies to IPO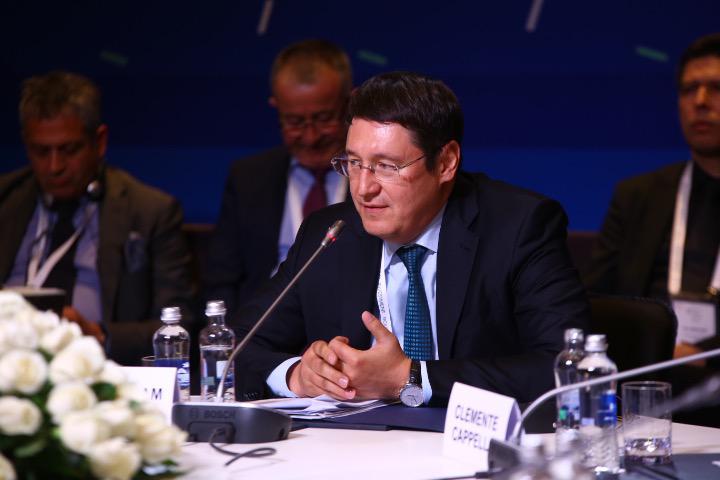 Samruk-Kazyna - National Sovereign Fund of Kazakhstan - has designed a comprehensive privatization program, which sends eight major national companies of Kazakhstan to IPO and maintains direct sales to strategic investors. Almasadam Satkaliyev, Managing Director of the Directorate operating the Fund's assets, has shared this during the round table "Kazakhstan's Privatization Program: Building a Capital Market through IPO of Major State-Owned Companies" at KGIR-2019.
According to Mr. Satkaliyev, Kazakhtelecom and Air Astana are to go public in 2019, with KazMunayGas expected to do the same by 2020.
"All IPO cases are different, each with a different strategy and approach. I will start with Kazakhtelecom - this is the leading telecommunications operator in our country, accounting for around 61% of cell communications. IPO is expected to cover 10% of the stake – the shares will be offered at the Astana Stock Exchange this year, and we are almost at the final stage. We anticipate a strong interest from the investor community because they like the history of the company", he explained.
Mr. Satkaliyev also talked about Tauken-Samruk going public.
"This is a promising national miner that deals with solid minerals. Currently, the company operates eight projects in metals such as zinc, copper, gold, and silver. All of them are at different stages of development. We believe that for this company we need a special program, and we need to attract international investment institutions and international banks as investors", he said.
As far as railway operator Kazakhstan Temir Zholy and local airline Kazakh Air going public, the Fund believes that these companies need more thorough preparations before they initiate IPO.
"Now we are working on the financial stability of the companies. We understand that they should pass this level only in 2-3 years time and only then can they go public", Satkaliyev continued.
As regards Samruk-Energo, the company holds about 30% in the local market.
"We are planning to engage a strategic investor with the company and we are ready for cooperation", Fund's representative noted.
Kazpost – a national postal operator - is also on its way to be listed.
"We attracted KPMG as an independent expert, and they recommended that we go with a certain amount of shares for sales. Kazpost's current operating conditions require subsidies from the government for such things as a local postal service. We believe that these companies are very promising, especially Kazpost, since the company has a very interesting logistics project", concluded Satkaliyev.
This was a type of a privatization vision expressed by the representative of Samruk-Kazyna.