Kazakhstan – Polish business forum takes place in Warsaw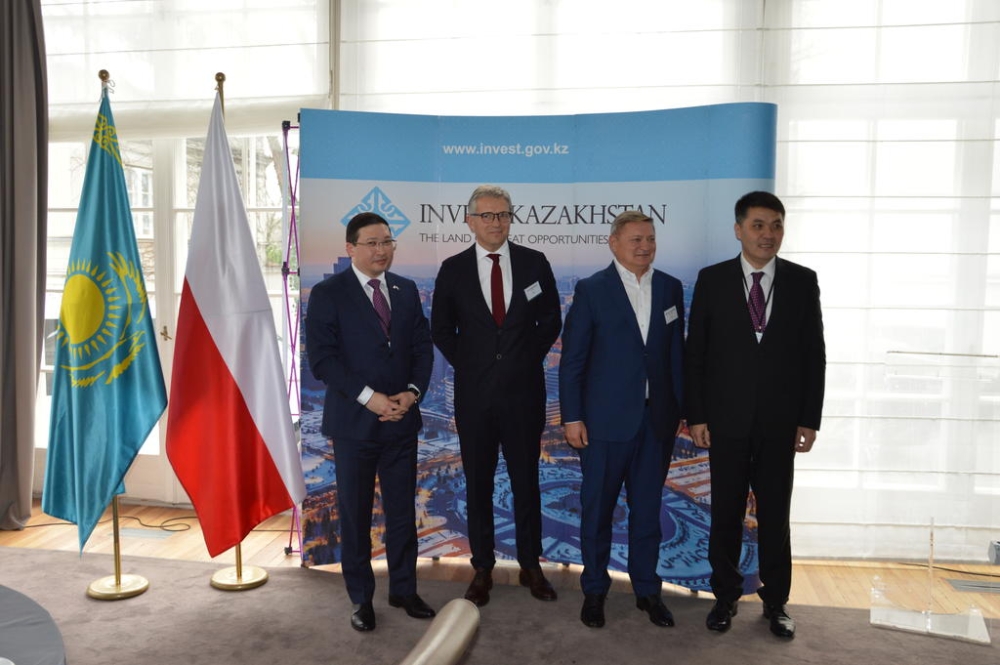 The investment potential of Kazakhstan and the competitive advantages of doing business in the country were discussed during the "Invest in Kazakhstan" business forum in Warsaw.
The head of the Kazakhstan delegation and the Deputy CEO of Kazakh Invest, Birzhan Kaneshev, shared with the Polish business community information on the Government incentives and support for investment projects in Kazakhstan. He also talked about the Special Economic Zones, Astana International Financial Center as well as Kazakh Invest that provides a full range of services to investors based on the "one-stop shop" principle. Birzhan Kaneshev noted that the principle activities of Kazakh Invest include the identification and "packaging" of new investment projects, targeting large foreign companies, selecting local business partners as well as promoting investment opportunities and attracting FDIs to Kazakhstan.
Polish business circles expressed their interest in investment opportunities and the competitive advantages of doing business in Kazakhstan in the context of the Kazakhstan 2050 Strategy as well as the messages of the President of the Republic of Kazakhstan, Nursultan Nazarbayev, on the country's social and economic modernisation.
Kazakh and Polish companies representing various sectors of economy, including agriculture, energy, construction, food, chemicals, mining and pharmaceuticals, participated in the business forum. Among Kazakh companies were Development Bank of Kazakhstan, AIFC, Kazakhstan Project Preparation Fund and Kazakh Invest. The Polish side was represented by the companies, such as Rohlig Suus Logistics SA, Polcotton, BGK, Bank Pekao, Plastiape, Mirbud, STX One, Polontex SA, FCA, ZetTransport, Towarzystwo Inwestycyjne BTA, Pelion, DDB Group, Billon, Legato, HSH Chemie, Kabanek SC, Mysak, JMR Europe, Instar ITS, Warsaw Financial and Commodity Exchange, among others.
The business forum resulted in the number of agreements between Kazakh and Polish companies. Upon negotiations, AsylGrain and Polcotton agreed to cooperate on a project involving the production and processing of oilseeds. During the meetings, the AIFC and the Warsaw Stock Exchange reached an agreement on cooperation. Kazakhstan Project Preparation Fund, Development Bank of Kazakhstan JSC and Bank Gospodarstwa Krajowego (BGK) discussed the conditions of cooperation for joint project financing.
The business forum was organised by Kazakh Invest, the Embassy of Kazakhstan in Poland and the Polish Business Council with the support of the Ministry of Entrepreneurship and Technology of Poland and the Polish Investment and Trade Agency. The main aim was to expand trade, economic and investment cooperation between Kazakhstan and Poland, strengthen and establish direct business contacts, present investment opportunities, projects and the measures of the Government support for investors in Kazakhstan.