Kazakhstan delegation headed by Saparbek Tuyakbayev, Chairman of the Board of "National Company "KAZAKH INVEST" visited Qatar on 4-5 of November, 2018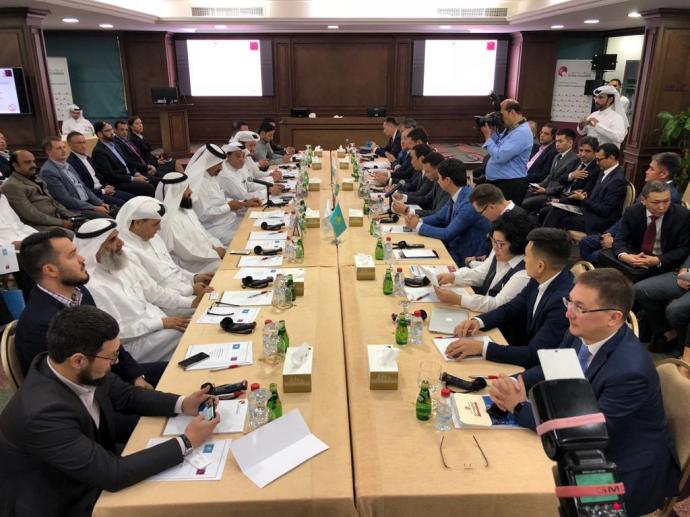 During the visit, the investment forum "Invest in Kazakhstan" was held, where representatives of the Kazakh and Qatari business communities discussed the prospects for the implementation of joint investment projects.
The main purpose of the visit is the development of investment cooperation between Kazakhstan and the Qatar state. On the investment forum the businessmen of the two countries had the opportunity to communicate and exchange experience in the B2B format.
With the assistance of the Embassy of Kazakhstan in the Qatar state and the chamber of Commerce and Industry of Qatar, the management of "National Company "KAZAKH INVEST" held talks with leading Qatari state companies and business community.
The Kazakhstan delegation briefed the Qatari side with the investment projects of Kazakhstan during the meetings where Mansour al-Mahmoud, Executive Director of the Qatari Investment Fund "Qatar Investment Authority", Saad Sherida al-Kaabi, Chairman of the Board of oil and gas state-owned company "Qatar Petroleum", and Yusif al-Musleh, Deputy Chairman of the management board for business development of state-owned Qatar investment and asset management in the field of construction and development, were present.
Reference:
Qatar Petroleum (QP) is a state - owned oil company. The company carries out all oil and gas activities in Qatar, including exploration, production, processing, transportation and storage. QP's operations are directly related to government planning, regulatory, and policy making.
Qatar Investment Authority (QIA) is a state fund of the Qatar state. QIA was founded in 2005 to strengthen the country's economy by diversifying into new asset classes. The Fund is a member of the international forum of sovereign wealth funds. As of 201, QIA manages assets in the amount of $ 335 billion.
The company Qatari Diar Real Estate was founded in 2005. The headquarters is located to the North-East of Doha, the capital, on the coast of the Arabian Gulf. Qatar Diar supports Qatar's growing economy and coordinates real estate development priorities in the country. As of January 2018, Qatar Diar has a total capital of $ 8 billion. There are 60 developing or existing investment projects in 24 countries around the world, with the amount more than $ 35 billion.