The Kazakhstan-Finnish Business and Investment Roundtable 2019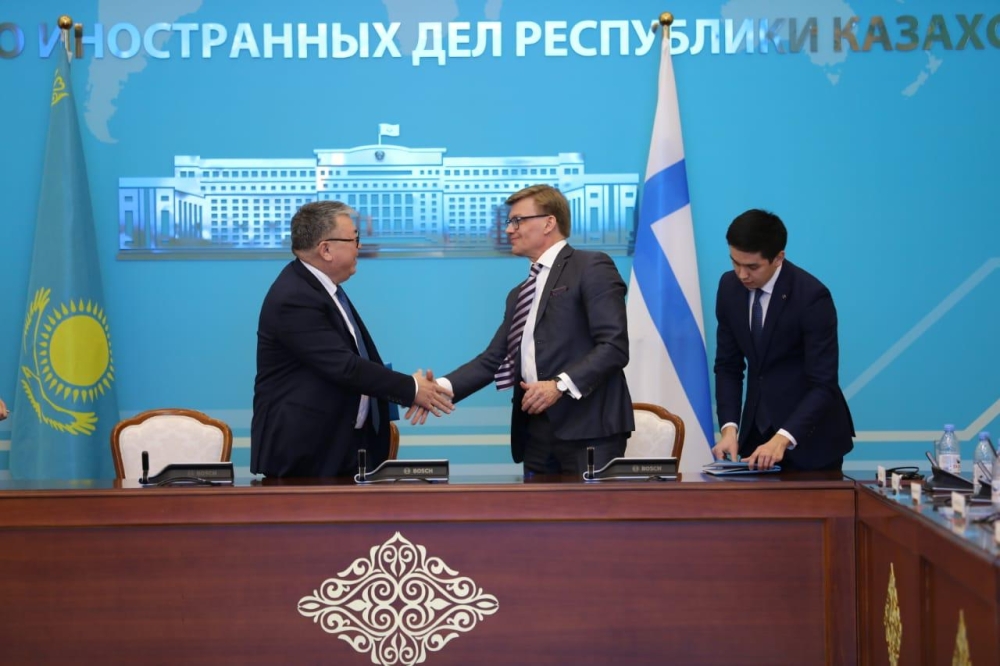 The Kazakhstan-Finnish Business and Investment Roundtable 2019 was organised by Kazakh Invest under the auspices of the Kazakhstan-Finnish Intergovernmental Commission on the trade and economic cooperation. The Government representatives, Ambassadors and over 40 companies from both countries participated in the event.
During his opening speech, Ermek Kosherbayev, the Deputy Minister of Foreign Affairs of the Republic of Kazakhstan, talked about the investment climate of Kazakhstan, investment support of Kazakh Invest, various preference and incentives available to foreign investors as well as the economy sectors, where Kazakh and Finnish businesses can potentially cooperate in. He highlighted the opportunities available in the Industrial Zones and Special Economic Zones, at the AIFC as well as within the Complex Privatisation Programme. He also suggested considering the possibility to establish the Kazakh-Finnish Investment Fund.
Anne-Mari Virolainen, the Minister of Foreign Trade and Development of the Republic of Finland, noted the increasing importance of Kazakhstan as a dynamic economy and a hub between Europe and Asia. She emphasised that Finland and Kazakhstan will further develop economic relations.
The representatives of companies, such as Kazakh Invest, AIFC, Kazakh Export, Nokia, Kaukolinternational, Finnish Water Forum, AINS Group, Nurminen Logistics and others gave their presentations during the event.
The Kazakhstan-Finnish Business and Investment Roundtable culminated in the signing of the additional three-sided memorandum agreement between the Housing and Utilities Modernization Center, Research Institute for standard and experimental design and AINS Group for the roadmap of the project implementation.
Following the official part of the event, Kazakh Invest conducted a series of B2B meetings with Finnish companies and potential investors.
Finland is one of the key partners of Kazakhstan in the European Union. In 2018, trade turnover between the countries amounted to about USD 247 million. The relationships between the two countries are characterised by dynamic political dialogue and a great potential for further expansion of economic and investment cooperation.