Kazakh Invest presented Kazakhstan's investment opportunities at SPIEF-2019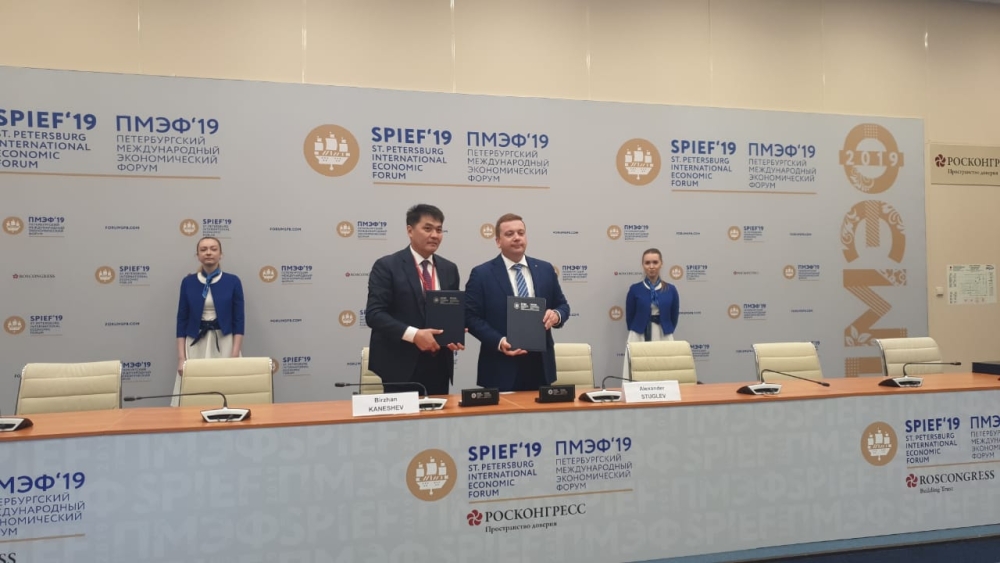 Kazakhstan's delegation took part in the St. Petersburg International Economic Forum (SPIEF-2019). During the event with participation of the President of the Russian Federation Vladimir Putin, representatives of Kazakh Invest conducted a series of meetings with leading companies and organisations in Russia.
Thus, during the meeting with the VIS Group, the parties discussed cooperation opportunities for infrastructure development. The company implemented over 70 large projects in the fields of energy, manufacturing, transportation, social and O&G infrastructure in 23 cities in Russia and Europe.
Also, Kazakh Invest conducted a meeting with representatives of Russian food company - Cherkizovo Group that is a major producer and processor of poultry and pork. The company noted great potential for exports of agricultural products to the markets of the EAEU countries and China. As a result, the parties agreed on further negotiations covering specific projects in the field of poultry meat and pork production.
Following the discussions with Kazakh Invest, Japanese company United Managers Japan, which is engaged in construction of high-tech greenhouse complexes, expressed their willingness to create a greenhouse with an area of ​​up to 10 ha at the initial stage. In case of successful project implementation and establishment of markets for the products, the company will be ready to expand its presence. Notably, Kazakhstan will commence implementation of large-scale greenhouse farming projects in 2019. Thus, Russian company ECO-Culture plans to construct the largest 500 ha greenhouse complex in Kazakhstan with the investment value of $1.1 billion. In the meantime, Turkish investors are planning to build 200 ha greenhouses worth about $ 200 million.
The event also marked strengthening of business relations with the SPIEF organisers – the Roscongress Foundation, one of the largest event companies in Russia. Kazakh Invest and the Roscongress Foundation signed a memorandum for exchange of information about major investment events on reciprocal basis as well as provision of support in the organisation and participation.
SPIEF is a unique event in the world of business and economics. SPIEF has been held since 1997. Over the years, the Forum has become a leading global platform for members of the business community to meet and discuss the key economic issues facing Russia, emerging markets, and the world as a whole. According to the organisers, over 17 thousand participants from 143 countries took part in SPIEF-2019.