Kazakh Invest presented Kazakhstan's investment opportunities at COIFAIR 2018 the Annual Investment Forum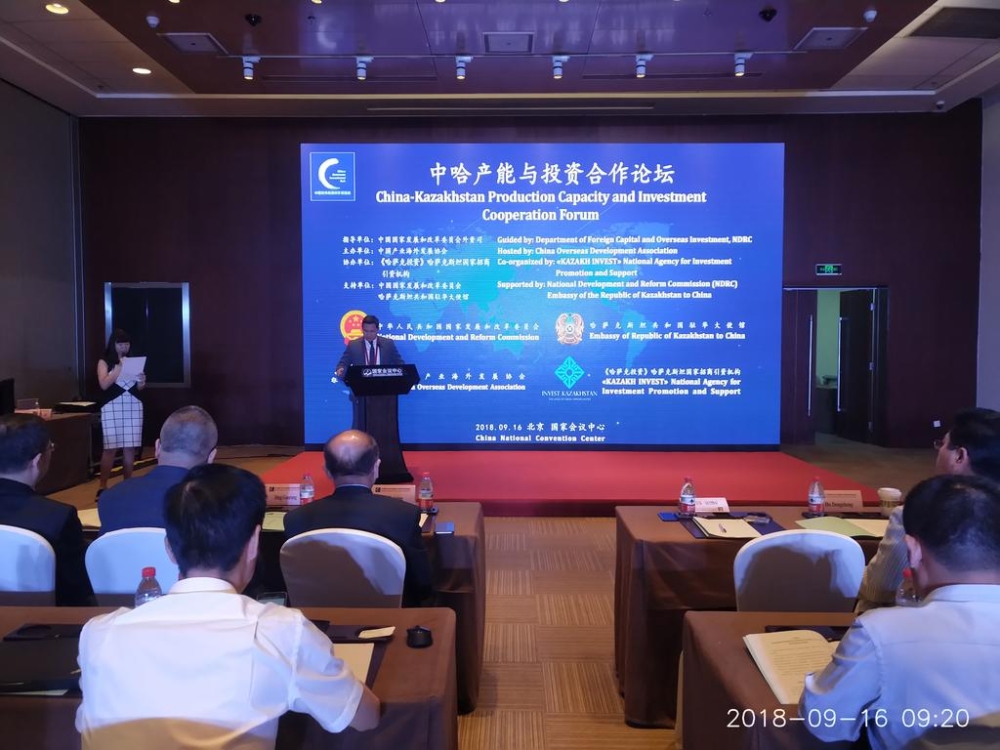 The Representative Office of Kazakh Invest NC JSC in China took part in the annual international investment forum 10th China Overseas Investment Fair 2018 on September 15-16, 2018 in Beijing. The business-event was organized by the State Committee for Development and Reforms of the PRC and the Chinese Association of Overseas Industrial Development
Traditionally, the Forum was attended by managers and representatives of more than 900 major Chinese companies, development institutions and financial organizations with experience in investing and implementing projects abroad. The representatives of 96 countries and regions also took part in the Forum. More than 5 thousand people visited the Forum.
September 15, 2018 Shakhrat Nuryshev, the Ambassador of the Republic of Kazakhstan to the People's Republic of China, delivered a complimentary speech at the opening ceremony of the Forum. He noted the successful development of a comprehensive strategic partnership, more intensive cooperation in the field of economy and trade, promoting bilateral investment cooperation.
September 16, 2018 within the framework of the Forum special session dedicated to the Kazakh-Chinese industrial-investment cooperation was held by the Representative Office of Kazakh Invest NC JSC in China, in association with the Chinese Association of Overseas Industrial Development with the support of the Embassy of the Republic of China in the PRC and the State Committee for Development and Reforms of the PRC.
Within the framework of this session, Representative of Kazakh Invest NC JSC Kuanysh Amantai presented the investment environment and priority sectors of the economy of the Republic of Kazakhstan, privileges and preferences for foreign investors, opportunities within the free economic and industrial zones of Kazakhstan.
At the invitation of the Representative Office of Kazakh Invest NC, a representative of Astana, the International Financial Center, also made a presentation at the session. The guests of Kazakhstan session were presented with special conditions for the functioning of the international financial center, favorable jurisdiction, benefits and preferences granted to its participants, financial instruments planned for launching in the near future and opportunities for Chinese companies that attract financing for joint projects being implemented in Kazakhstan.
Heads of such leading Chinese financial institutions and companies as China's State Development Bank, Silk Road Foundation, CITIC Group, China Nonferrus Metal Industry's Foreign Engineering and Construction (NFC), Daqing Golden Land Water Saving Engineering Equipment, Hubei Kelison. The Chinese speakers shared their experience of successful cooperation with Kazakhstani financial institutions and business partners with the participants of the session, presented the realized and realized projects in the territory of Kazakhstan on processing of mineral resources and production of products with high added value, construction of transport and industrial infrastructure, processing of agricultural raw materials and food production, joint financing of investment projects. More than 150 people took part at the Kazakhstani session.