KAZAKH INVEST signed memorandums totaling $113 million during Kazakhstan-Korean investment forum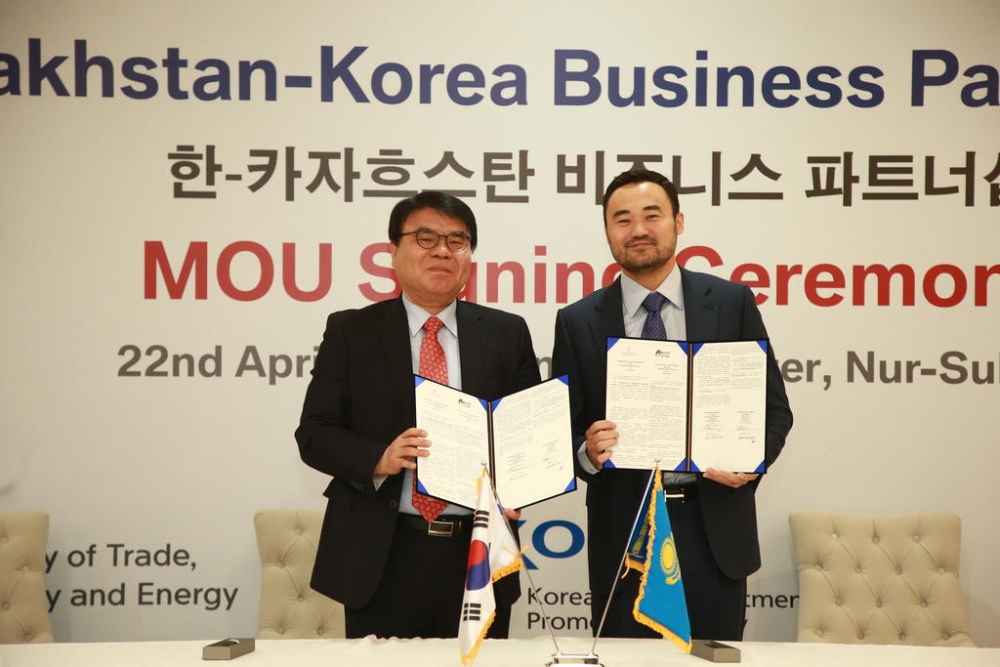 Today, Kazakh Invest signed memorandums totaling $ 113 million. The memorandums will result in development of projects in various sectors of the economy as well as creation of over 2000 new jobs.
Thus, based on the Memorandum of Understanding, OKPOS KZ, a telecommunication company, expresses an intention to consider investing in a project for development and supply of POS-systems in Kazakhstan. The Memorandum signed between K2AT LLP and Kazakh Invest provides implementation of investment projects that include construction of a plant for desalination of Caspian seawater and organic fertiliser production, Aral sea smart farming project as well as development of technology park – a zone of research and development in the field of life sciences. Projects' realisation will create around 2000 new jobs. Based on the signed Memorandum, Korean company,MAIN INFO, considers investing in Kazakhstan and developing high-tech market, including self-driving cars and artificial intelligence. In turn, the cooperation between Woori Financial Group and Kazakh Invest will provide a basis for developing close commercial relationships as well as business growth and progression.
A number of speakers highlighted Kazakhstan's favourable investment climate during Kazakhstan-Korea Investment Forum. Thus, Rustam Issatayev, the Deputy CEO of Kazakh Invest, noted that conditions created for investment activity in the country had been facilitating the growth of FDI inflows. "Presently, there are 42 investment projects totaling $ 4.8 billion that involve Korean companies. Of these, 20 projects ($ 2.4 billion) have been implemented by companies like LG electronics, Kolon, Dong-il consturction, KNOC, Lotte Confectionary and others. Additionally, 6 projects ($ 2 billion) are presently at the implementation stage, while 16 projects ($ 670 million) are being developed", - said Rustam Issatayev.
Kazakhstan-Korean investment workshop was organised within the framework of Kazakhstan-Korea Investment Forum. During the workshop, Korean investors learnt about investment opportunities in Kazakhstan. Representatives of Kazakh and Korean companies, such as Hyundai Metal, Daewoo Shipbuilding & Marine Engineering, Asia Seed, UROBO, DTR Corporation, Redone Company, Hanwha Corporation and many others, participated in the workshop.