KAZAKH INVEST: 5 agreements signed during the official visit of the Prime Minister of the Republic of Kazakhstan to the Netherlands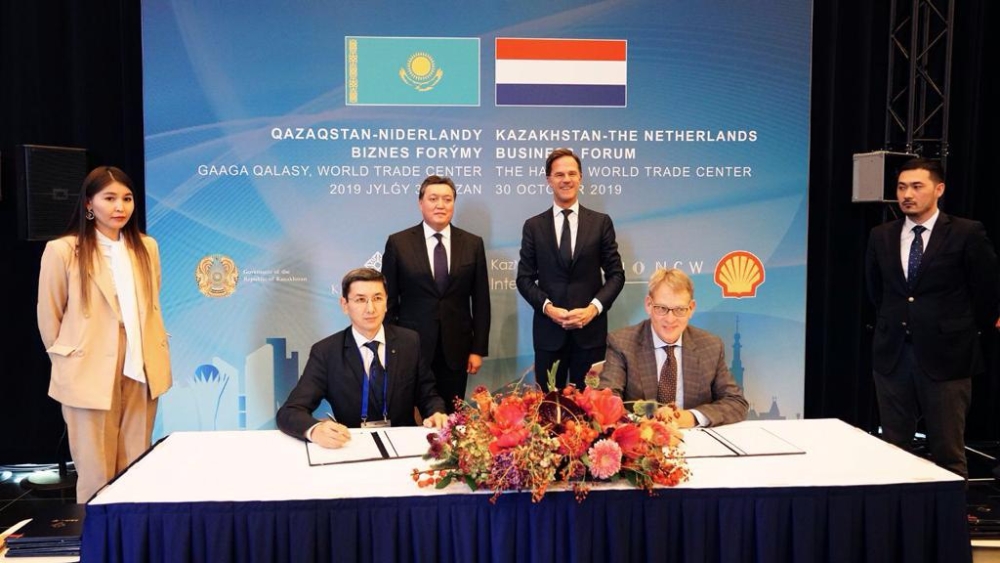 For the first time in history of bilateral relations, the Prime Minister of the Republic of Kazakhstan officially visited the Netherlands. The Prime Ministers of the Republic of Kazakhstan and the Kingdom of the Netherlands attended the opening of the V Kazakhstan-Netherlands Business Forum.
The forum was attended by about 200 representatives of Kazakhstan and Dutch business. The representatives of Baiterek NMH, KazMunayGas, AIFC, Deloitte, Shell, the Confederation of Business and Employers of the Netherlands, and others presented reports on the prospects for the development of trade, economic and investment cooperation between the two countries. The forum participants not only presented their opportunities, but also held working meetings and negotiations with potential partners in B2B format.
Following the results of the forum, with the support of the Ministry of Foreign Affairs of the Republic of Kazakhstan and KAZAKH INVEST, in the presence of the Heads of Government of the two countries, five documents were signed on cooperation in aerospace industry, education, agriculture and housing and housing and utilities sector.
Thus, the parties came to agreements on cooperation in projects of Earth Remote Sensing (ERS) and Geographic Information Systems (GIS) between Kazakhstan Garysh Sapary and NEVASCO group of companies, on cooperation in the training of Kazakh students between the Kazakh National Agrarian University and the University of Wacheningen, on a Joint Venture between K-Agro LLP and Farm Frites for the production of french fries in Zhambyl region with project worth $145 million, as well as implementation of the programme on the construction and reconstruction of sewage treatment facilities between Housing and Public Utilities KazCenter and Witteven+Bos, as well as Cooperation in construction of an Agricultural Park in Turkestan region with an area of ​​200 hectares between DAL Agro Park and the Dutch Greenhouse Delta Consortium.
In addition, the Prime Minister of the Republic of Kazakhstan met with representatives of the Dutch companies Shell, Bitfury, SuezGroup, Farm Frites, Dutch Fruit Solutions, where they discussed the prospects for development of projects in energy, data processing and blockchain technology, education, agricultural processing, etc.