Kazakhstan's investment opportunities have been presented in France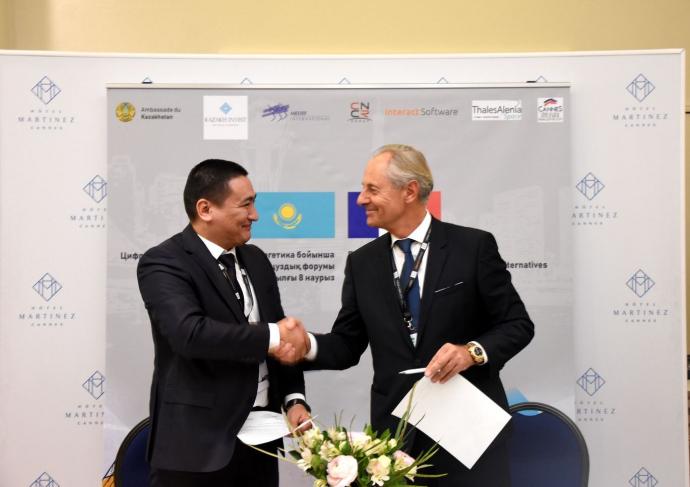 "Kazakhstan-French Forum: Digitalisation and Alternative Energy" took place in Cannes, France. The agenda included the presentation on the investment opportunities in Kazakhstan, the Government support for the investment projects, digitalisation and its impact on the economy as well as the potential of alternative energy.
During his speech, Birzhan Kaneshev, the Deputy CEO of Kazakh Invest, discussed the numerous advantages of doing business in Kazakhstan and existing incentives available for foreign investors. He also highlighted the role of Kazakh Invest in attracting FDIs and supporting the investment projects.
"Kazakh Invest, boasting a wide network of representatives abroad and across all the regions of Kazakhstan, provides a full range of services to investors based on "the one-stop shop" principle and supports investment projects during the entire lifecycle", - he noted. Additionally, Birzhan Kaneshev, elaborated on the advantages of investing in the areas of digitalisation and alternative energy in Kazakhstan.
Over 100 participants from both countries attended the forum. The Kazakh delegation was represented by the Vice Minister of Digital development, Defense and Aerospace Industry, Daryn Tuyakov, the Ambassador of Kazakhstan to France, Zhan Galiyev, the Head of AIFC, Kairat Kelimbetov, the Board member of Kazakh Invest, Francois Bernard as well as the representatives of AIFC, Zerde, business circles and authorities. Leading French companies, such as Fonroche, Thalis, Airbus, CNCR Group, BPI France, Urbasolar, ECM Greentech and employer federation "MEDEF" also participated in the forum.
The parties discussed the possibilities of expanding bilateral cooperation in the priority sectors of the economy identified by the Presidents of Kazakhstan and France during the meeting in Brussels in October 2018.
Following the bilateral meetings, the representatives of CNCR Group expressed a strong interest to implement their projects in Kazakhstan. The company plans to facilitate the country's digital evolution with its exclusive products, including the development of database in Kazakhstan.
Presently, several investment projects are being implemented in Kazakhstan in the fields of machinery building, petrochemistry and trade. The investment projects with a total value of USD 350 million provide over five hundred permanent jobs.
Notably, the total volume of FDIs from France to Kazakhstan reached USD14.4 billion during the period between 2005 and 3Q 2018. Trade turnover between the two countries reached USD 4.5 billion recording a 32.5% increase to compare with 2017. At the same time, Kazakhstan's exports to France increased by a third to reach USD 3.8 billion in 2018. Among the exported goods were crude oil and uranium. Imports from France with a total value of USD 535.2 million included, among others, pharmaceuticals, vaccines and herbicides.