Investment opportunities of Kazakhstan have been presented to investors from over 143 countries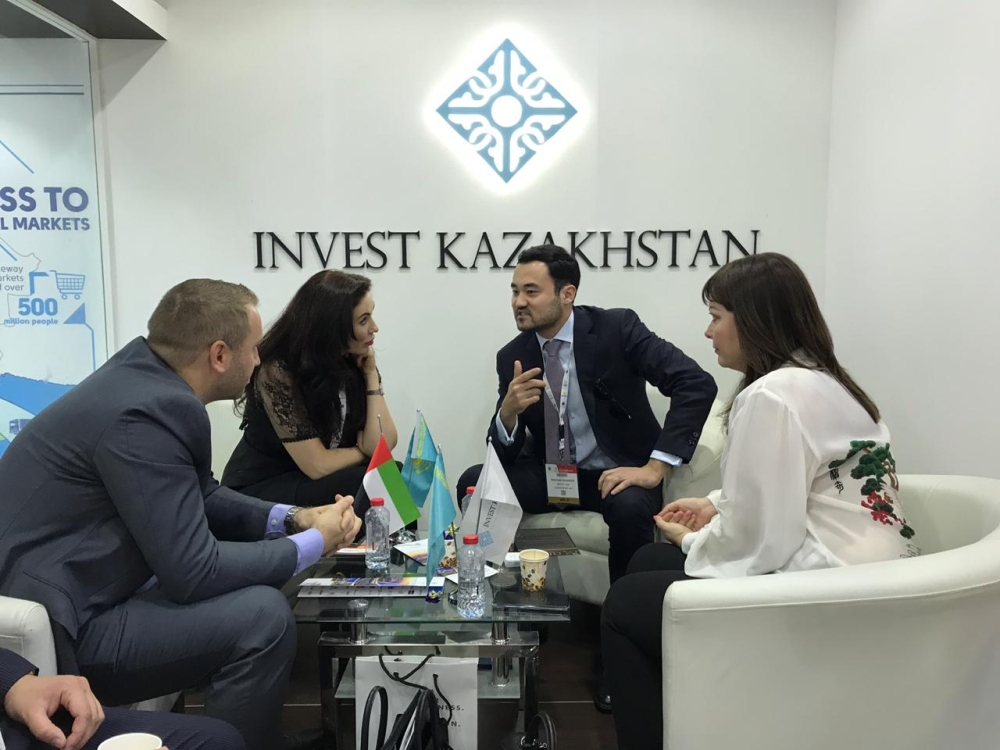 The investment opportunities of Kazakhstan were presented at the world's largest investment event - Annual Investment Meeting (AIM) in Dubai.
The delegation headed by the Deputy CEO of Kazakh Invest, Rustam Issatayev, conducted a number of meetings with Dubai Investments, Islamic Corparation for the Development of the Private Sector, LuLu Group International, Jenaan, Al Ahli Holding Group, Private Office H.H.Tahnoon Bin Saed Bin Tahnoon Al Nahyan, Alfanar, ARABSKY, Duwaya Investment, Medtronic, National Petroleum Construction Company, Almajdouie Investment Company, eResolute and Lilavati.
The meetings resulted in high interest of foreign companies to consider the possibility of investing in the presented projects. For instance, Dubai Investments expressed interest in investment projects in healthcare and education sectors, while Jenaan Invetment, a private agriculture company, intends to consider the possibility of implementing greenhouses construction projects in Kazakhstan. Al Fanar, a company headquartered in Saudi Arabia, showed particular interest in investing in renewable energy and power generation projects.
«We have plans for international expansion and currently consider Kazakhstan as one of the possible location. We are planning to visit Kazakhstan in the near future», - shared Prashant K. Mehta, a Permanent Trustee of Lilavati Hospital and Research Centre (India).
«Our company, eResoulte, is looking to enter the Central Asian market and establish a regional hub. Due to its central location, well-developed infrastructure, favourable investment climate and investment incentives, Kazakhstan can be the most suitable option», - noted Kashif Ahmad Khan, the Founder and CEO of eResoulte (UAE).
«We participated in the AIM, as we were looking for new investment opportunities. It was very insightful to learn more about Kazakhstan's investment climate and incentives offered by the Special Economic Zones. We will definitely explore the market for our investment initiatives in future», - said Abdulhamid Duwaya, the CEO of Duwaya Investment (UAE).
During the AIM, Kazakh Invest has been awarded with the AIM Investment Award (Runner Up) in recognition of the outstanding work in attracting sizeable and beneficial FDI projects in 2018 and, thus, contributing to the economic growth and development of Kazakhstan. This is a testimony of the work accomplished by the company. Thus, in 2018, gross FDI inflows to Kazakhstan amounted to USD24.3 billion, recording a strong 15.8% growth to compare with the previous year (USD21.0 billion).
The AIM took place in Dubai on April 8 – 10, 2019. The largest global investment gathering is an initiative of the UAE Ministry of Economy held under the patronage of His Highness Sheikh Mohammed Bin Rashid Al Maktoum, UAE Vice President, Prime Minister and Ruler of Dubai. The AIM hosts over 20,000 visitors from 143 countries all over the world to connect businesses and countries for sustainable investment partnerships.