Alain Pilloux: "If you want to have a knowledge economy, you need to give a lot of breezing space to the private sector"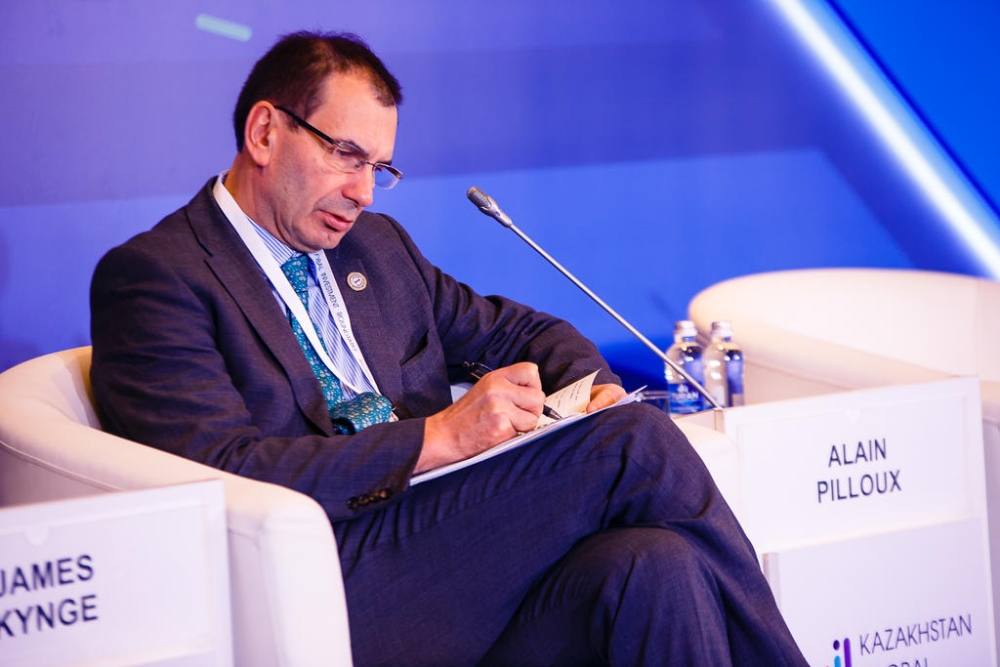 "The pace of change, as far as innovation is concerned, is constantly accelerating," – said Alain Pilloux, the Vice President of Banking at the European Bank for Reconstruction and Development (EBRD) during the plenary session at Kazakhstan Global Investment Roundtable 2019. "Building a knowledge economy, innovative economy in any country requires a sustained effort. It is not a short-term effort. In that respect, I would like to applaud the 5 year "Digital Kazakhstan" programme, which is implemented by the Government," – noted the Vice President of EBRD.
Talking about how Kazakhstan can integrate into the new economy, the banker clearly defined three building blocks, namely breezing space to the private sector, the Rule of Law, education and investment in information technologies.
As per the first block, according to Alain Pilloux, he was "extremely happy to hear fr om the Prime Minister that the share of the state in the economy is supposed to decline fr om 70% to 15% over a relatively short period of time, which is is very good," – opined the banker.
"Secondly, the Rule of Law is extremely important in order to innovate in all sectors. When you are an entrepreneur, the protection of property rights is important, in particular intellectual property rights," – continued Alain Pilloux. As a positive example, he talked about the experience of Russia: "This is in fact the main reason why Russia created Skolkovo. What is Skolkovo close to Moscow? It is a corruption free, rule-of-law island, wh ere Russia tried to develop a knowledge economy."
The third building block is education, particularly technical education. "I understand there are quite good technical universities here in Kazakhstan, so it is a good building block. It is important to have an education system that is able to anticipate jobs, which do not yet exist. This is not easy. We have jobs today, which did not existed 5 years ago. So, you need to anticipate and, of course, you need to have an education system, which is connected to enterprise. It is very difficult to do it in a reality. Many countries tried and a lot of countries are not yet there," – said the speaker.
Next building block is massive investment in information systems. "This is absolutely critical, when you want to develop knowledge economy", - emphasised Alain Pilloux. He continued: "When we think of innovation, we think about start-ups. But innovation is in the core sectors of the economy, in existing industries, wh ere it is brought about by FDI, which is the source of innovation in every country and brings skills, knowledge, new message. Also innovation is brought by sustained investment in new technology and sustained R&D effort in every single company."
"Integration in value chain and continuous work on industrial processes are very important. New technologies in urban services, the concept of smart cities, smart transport, smart grids, e-Government, e-procurement, greening economy are the major sources of innovation, as they transform processes," – said Alain Pilloux during the plenary session.
As per the experience of EBRD, according to the speaker, the bank presents in all sectors of the economy. Since 1993, the EBRD has invested over $ 8 billion in 240 projects in Kazakhstan. In 2018, Kazakhstan signed 26 projects with EBRD amounting to $ 541 million in all sectors of the economy, including the mining industry, municipal and transport infrastructure, renewable energy and others. The EBRD's active portfolio in Kazakhstan includes 124 projects. To date, 9 projects worth 31.5 billion tenge are being implemented.